She's gonna be related to the whole Superman tourney thing. Though obviously just a regular character. Powers and direction have been decided, I'll get to 'em soonish.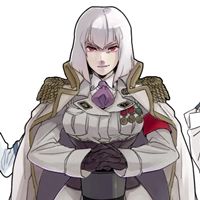 Omega Dark
BIO
To the Cult of the Ineffable Theorem, she's the Persona Photonic, the bearer of light and the end of its absence. The Omega Dark.

To her parents who once lead the cult, she was the little bitch who would end up murdering them. Oh, it was a subtle thing at first. First her mother who died during her second pregnancy. No one ever quite figured out the exact circumstances of her death, which was unusual for a cult of crazy truth seekers.

Now with her father, it was slightly less subtle. But only slightly. She managed to convince the cult that he was evolving or that his soul was about to hitch a ride on an upcoming comet or maybe she just told them he was dead weight and needed to die. Either way, in a spectacular rainbow light display that cemented her place as the new leader of the cult, she excited every electron in his body until, well, until he dropped dead.

After that, things settled down into a humdrum of sorts. The cult would grow under her leadership, but all meaning to its existence would be slowly stripped away until it became nothing more than a vehicle to cater to her whims. Disgruntled senior members were disenfranchised or outright eliminated. Terror began to reign. In a handful of years, her leadership had turned into an outright regime... and then, like a switch finally turned off, she disappeared. Suddenly and without a trace. The many remaining cultists found themselves without their guiding light. The Cult of the Ineffable Theorem was left to fend for itself on the inescapable Isle of Obscured Gluon.

Elsewhere...

Like a switch that was turned on, the world suddenly found itself terrorized by Omega Dark, supervillainess extraordinaire!

PERSONALITY
My parents died when I was still so very young. Orphaned as I was, I became what you might call, a "poor little rich girl". For these tragedies, I held no grudge against the world.

After all, it was I who murdered my parents and my solitude was entirely self-orchestrated. I chose my life very early on and even if I were to have any regrets, I would still not hold the world accountable for my lot in it.

So why, you might ask, am I such an "evil bitch"? Simple. Because I am.

I do not have, nor do I need, any single traumatic event to shape my destiny. I was born into power and MORE power is the only thing I truly crave. I need no other motive and that in itself, is my motive.

Hello, I am Megan Thorne, the Omega Dark. And I AM an evil bitch.