Secret Wars I:
Secret Wars II:
Secret Wars III:
Secret Wars IV:
Secret Wars V:
" Alright you idiots get through that portal and enjoy yourselves. I wouldn't suggest going anywhere or trying to escape your prison. In that hellish place it's probably the safest place for you to be.
Nick Fury barked at the super-villains who were being lead through the huge portal into a prison in the Negative Zone. Skaar, Captain Marvel, Skaar, and more all lead groups of villains through the portal as once they entered they were inside the prison. Then they were put in their cells. Reed Richards had rebooted the prison Tony Stark used in the Negative Zone during the civil war. Hyperion flew over to Nick Fury as he landed and crossed his arms as he spoke.
" Good idea getting these guys out of here Fury. However we still have a problem. If they perfect that Sentry formula were screwed along with their entire army. I don't get why Doom would even help them with that. Even he knows how unstable it is."
Nick Fury smoked his cigar as he took in Hyperion's words and thought for second before speaking.
" Your right Hyperion. I haven't figured out how to prepared for another Sentry. Lord knows Sentry's unstable mind in a way is what kept him from destroying this planet. I couldn't imagine one of these evil sons of a bitches with a stable mind and ability to handle the power of Sentry. You, Thor, Captain Marvel, and the rest are gone have to bring your best when that fight comes. If anything goes wrong we do have one major backup plan. The Negative Zone...."
Fury continued barking orders as Hyperion looked at Fury surprised at Fury's last three words. Even he forgot the Void hated the Negative Zone. It was probably the only place that could contain someone with Sentry's power with the way it worked.. Hyperion was about to speak again when Fury's com went off and Maria Hill responded.
" Fury we got a problem. It's been hours since we last heard from Tony's team. I need some of you team to go check it out. We have the signal where they last were. We can't avoid to lose anybody else at this point in the war."
Fury looked to Hyperion who already nodded knowing he would go and bring a group to the Savage Land as he flew off. Hyperion flew to Namor and Captain Marvel as he told them of the situation as they agreed to go along. Hyperion flew off with both of them as they took off for the Savage Land.
Savage Land-
Back in the Savage Land the battle rage as Bullseye and Deadpool exchanged gunfire. The two clashed as they flipped all over the place as bullets flew everywhere.
" Bullseye buddy...pal..How ya been? It must be hard once again being Marvel Comic's most unknown and boring villain."
Bullseye enraged at Deadpool and his usual nonsense threw a grenade toward Deadpool as Deadpool stood waiting with his sword as he smacked it back toward Bullseye.
" Home run folks their it goes!"
Bullseye widened in disbelief as he jumped for cover as the grenade went off and exploded. The left side of his body was on fire as he yelled in pain as Deadpool laughed as he made winning poses. Gorilla Grodd attempted to use his telepathy on Quicksilver who grinned at the attempt and sped toward Grodd.
" You big ugly ape I have dealt with telepathy idiots before and know how to keep them out. I am the son of Magneto. You don't want to be in my head..."
Grodd yelled in anger as before he could continue Quicksilver ran and hit him with multiple punches that slammed down on his face. In seconds Grodd fell down to the floor pasted out. Bizarro and Vision battled it out exchanging blows as Iron man and looked on at Iron Patriot who was no longer in armor. Norman Osborn was on his knees angry as Iron man shook his head in disbelief Norman tried to fight him in his own armor.
" You were a idiot for thinking you could beat me with my own armor and I would like to thank you for those files..."
BOOM BOOM BOOM!!!
A huge burst of speed came out of nowhere as 3 forces of power with amazing speed blitzed the remaining the villains with such powerful force that rocked the whole area. Hyperion, Namor, and Captain Marvel stood over the villains smiling as they looked on that their fellow Avengers.
" So Tony did you have the files that we need? Any clues to where they were heading next?"
Captain Marvel asked as she cracked her knuckles showing she obviously wanted to hit some more things as Namor smirked. Iron man looked at the files as he shook his head.
" Oh I know where these guys are staying now. Their not on Earth. They built their own base on Mars. How the hell they managed to keep themselves hidden without me or Reed detecting them is behind me. But they must be using some kind of teleporter to move quickly back and forth. " I know happen to know their next target. They didn't finish the Sentry formula but their 85% complete and they have tested it because it is still showing the same bad side effects Bob had. Hyperion and Namor head over to the Baxter Building. It seems they will be targeting the Fantastic Four next and their sending a strike team to that location. Reed seems to be on their list of targets since he has technology they need. Me and the rest of the gang will go back to base to inform the others so we can prepare a game plan."
Hyperion and Namor nodded their heads in agreement as everyone went off on their separate missions.
Baxter Building-
The Future Foundation kids were running around Reed's labs making a mess of things as She-hulk tried to get things in order. Scott Lang was at the desk observing Reed's computers and more as he tried to figure out why the Fantastic Four hadn't come back yet. A message beeped on one of the large monitors as Iron man appeared.
" Scott I'm glad to see you. I'm sure Spiderman kept you up to date on what has been going with this new secret war."
Scott Lang shook his head in disbelief at the whole thing and in way he was happy to be here watching over the Fantastic Four's operations rather then fighting in the war.
" Yeah Tony I heard and it's sad with all the deaths that's happened. I take it by the look on your face something serious requires our attention? I was hoping to keep the kids out of it."
Tony nodded at Scott agreeing as he understood how busy he was covering for the Fantastic Four.
" I know Scott but you and the Future Foundation are in trouble. These villains are targeting your building. Reed has some technology and files there they need to finish the Sentry formula. On top of already kicking our asses beforehand. They have been drafting our own villains into their army. If they finish at that formula the balance will completely shift to their side and well we are screwed beyond belief. I'm sending Namor and Hyperion...."
BAM! BOOM!
Osiris, Abomination, and a group of villains led the way as they started attacking the rest of the Future Foundation. Hyperion and Namor arrived in time as they immediately moved the children away from the battle as all hell broke loose.
" Yeah Tony I think we got the message..."
Osiris and Namor exchanged punches as Namor flew Osiris through the side of the building as they flew in the air above the streets unleashing hell on each other. Abomination more powerful then ever punched Hyperion as he crashed through several walls. Scott shrink down as he went after one of the villains to take them out.
The battle began
Osiris (Amon Pre-Flashpoint)
Abomination (When powered by Amatsu-Mikaboshi and at his most powerful.)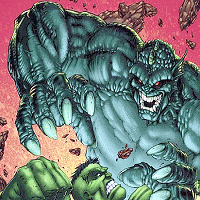 C
and
Injustice Society composed of DC & Marvel Villains (Vandal Savage, Electro, Geomancer, The Wizard, and Pyro)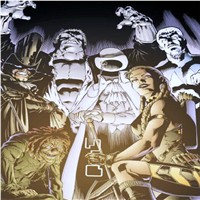 vs
Hyperion (Current)
Namor (Current)
Future Foundation
Ant-Man (Scott Lang)
Miss Thing
She Hulk
Medusa
WIN BY ANY MEANS. IT TAKES PLACE IN THE BAXTER BUILDING AND NEW YORK CITY. THE VILLAINS ARE AFTER SOME TECH AND DEVICE OF REED RICHARD'S THEY NEED. THE HEROES WANT TO STOP THEM AT ALL COSTS FROM GETTING WHAT THEY NEED. WHO WINS?