GAINING AN EDGE: A MASSIVE FIGHTING GAME CROSSOVER
PART XXXIV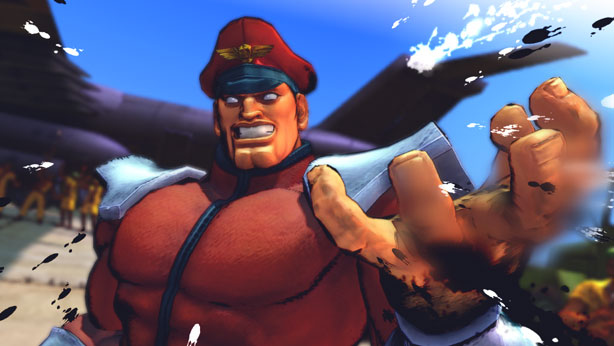 In Spain, Vega wiped Miguel Caballero Rojo's blood off his claw with a bemused expression on his face. (REF: VEGA VS. MIGUEL CABALLERO ROJO)
"I suppose he really didn't know anything about Soul Edge. No matter, another hideous creature has been removed from the Earth. It was still time well spent."
M. Bison teleported in behind Vega, startling the Spanish killer.
"I'm glad you can find such joy in a failure, because to me it is just another failure," said Bison.
"We are getting closer," Vega insisted.
"Yet we are moving at a snail's pace. We began this search at a disadvantage against Kazuya Mishima (REF: HAYATE VS. RAVEN) and we have done nothing to make up any ground," said Bison.
"I'm doing all that I can. This has become a one man show. Sagat left our ranks long ago. Balrog decided to be the mindless buffoon that he is (PAUL PHOENIX VS. BALROG) and I assume got captured in Las Vegas (REF: ASUKA KAZAMA VS. SAKURA KASUGANO) . The Dolls, as useful as they are, are still in critical condition thanks to that insane woman, Juri Han. You, yourself, said the foot soldiers are not skilled enough to take on fighters of this caliber," explained Vega.
Bison became angry "I am aware of the obstacles, I do not need them listed for me. I need ideas on how to circumvent them!"
"There are the two recruits we got that used to work for Geese Howard in America. I never thought much of them, but they do have strong fighting histories including being invited to the King of Fighters tournament. They may be skilled enough to take on participants in the King of the Iron Fist tournament."
"What were their names?"
"Raiden and Hwa Jai," answered Vega.
"Let's see what they can do. Split your target list with them. I do not want anymore screw ups so keep them as a pair at first so they are guaranteed to have the advantage," said Bison. He clinched his fist. "I will join in the search personally if I need to. I will obtain Soul Edge! I must! If it can actually absorb souls then it may be the missing piece to combine with my Psycho Power to grant me true immortality."
----------------------------------------------------------------------------------------------------------------------
Vega sent Raiden and Hwa Jai to Turkey to hunt down mixed martial artist and King of the Iron Fist fighter, Craig Marduk, who was scheduled to be in the country for an exhibition fight. Raiden arrived in the country by himself. Hwa Jai had been MIA since before they received their assignment. He left to join Sagat's Muay Thai Challenge tournament (REF: JOE HIGASHI VS. ADON) to see where he ranked against the greatest Muay Thai fighters in the world and to get another shot at Joe Higashi. Raiden did his best to cover for his associate while he was away.
It was not long ago that both Raiden and Hwa Jai had given up their lives of crime. Raiden hated being a lackey. He even started to go by his babyface wrestler identity, Big Bear. But, times were tough and there was not a lot of money in being a good guy. Raiden and Hwa Jai had gained a lot of attention from criminal organizations when they participated in the King of Fighters tournament with known criminal reformist, Kim Kaphwan. Organizations like the rebuilding Shadoloo. So far, Raiden preferred working with Shadoloo much more than his time under Geese Howard. Geese Howard was local whereas Shadoloo was global and gave much more freedom to its operatives. To this point, Raiden had not even met M. Bison.
Raiden entered the small venue where Craig Marduk was set to fight. Raiden figured that he and Hwa Jai were given this target because Raiden would fit right in with the audience in his wrestling attire. He decided he would wait until after Marduk fought and was wore down. Beating information about Soul Edge out of him would then be much easier, but still just as fun.
Elsewhere, inside his locker room, Craig Marduk conversed with his friend, King.
"Even though we need to figure out more about that second Armor King, it is nice to get away from it for awhile," Craig remarked.
King roared in agreement.
"Whatever it has been that has been occupying his time (REF: T. HAWK VS. ARMOR KING), I am more than happy to take advantage of that break from the drama to get back to what I really enjoy doing, fighting," said Craig.
He walked over and looked at the promotional poster of Hakan and himself placed on the locker room wall. "Can you believe this guy? All his yapping about Turkish Oil wrestling being the top fighting style in the world and how people are afraid to challenge him. But, here I am. I even traveled to his home country so that I can destroy him in front of his family and friends. Man, I've missed this stuff. I'm so excited." Craig looked away from the poster and back at King. "At the same time, I've seen some strange things in my time, but this has to be one of the goofiest looking opponents I've ever faced."
King nodded.
"I know he is going to be slippery out there so I will need to be focused and pick my spots," Craig stated.
King reminded Craig that since Hakan was the president of an edible oil manufacturer, the entire match could just be a publicity stunt to promote his oil.
"You might be right, buddy. Regardless..." Craig Marduk clapped his hands together. "It is time to show these Turks what a real fighter looks like!"
King cheered on his friend as he exited the locker room. Hakan taunted Craig as walked down the aisle.
"Perhaps when this is all over you can tell all your MMA buddies what if feels like to go against a true fighting art form. Even better, maybe the Pay Per View sponsors will realize what they are missing and start adding Turkish Oil Wrestling to their lineup."
"Keep dreaming," replied Craig.
As Craig Marduk entered the ring, Hakan doused himself with a large barrel of oil.
"Let us get started!" Hakan shouted.
Craig shook his head. "You are so bizzare."
A short distance away, the sight of Hakan's pre-match preparation even caught Raiden a little off guard. He had heard of Turkish Oil wrestling, but had never seen it in person. He chuckled to himself and waited patiently for the match to start. Raiden just hoped that too much oil would not rub off on Marduk.