GAINING AN EDGE: A MASSIVE FIGHTING GAME CROSSOVER
PART XV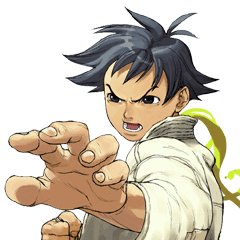 Makoto lifted her arms in victory as she stood over Yuri Sakazaki. (REF: MAKOTO VS. YURI SAKAZAKI) Hitomi, Kokoro, and Zack clapped in appreciation.
"What did I tell you," said Hitomi. "Impressive, right?"
"Very impressive," agreed Kokoro.
Zack and the two girls walked down to the auditorium floor to congratulate Makoto.
"Congratulations. Those were some great moves you put on display," said Hitomi.
"Thank you," responded Makoto.
"We have a proposition for you if you're interested," said Kokoro.
"What kind of proposition?" asked Makoto.
"We are gathering some of the strongest fighters in the world to protect an ancient item called Soul Edge from the hands of evil," Kokoro explained.
"It's the chance of a lifetime, baby. You can show the world what moves you workin' with," added Zack.
Makoto appeared confused.
"Don't mind him. That is just the way he talks," said Hitomi. "What we are talking about here is a
chance to do something good for the world and really test your abilities at the same time."
"In that case, I'm in," Makoto decided.
"Good. We don't have much time to waste. We need to fly out to Hollywood to pick up Jann Lee." Zack looked over at Hitomi. "You have a better relationship with him than I do, so I'll leave the sales pitch up to you."
Hitomi nodded. "I will do my best."
"I still can't believe he is filming a movie," said Kokoro. "He must be so excited."
"I'm just glad he isn't in some fighting competition like the rest of you. Hopefully we can get in, get him, and get out. No waiting for a fight to finish like it has been so far," Zack remarked.
"If he is filming a movie out there, do you really think the producers will just let him leave?" asked Makoto.
Zack had clearly not thought of that possibility, but he quickly brushed it off. "We'll deal with that when we get there. If it comes up at all."
----------------------------------------------------------------------------------------------------------------------
Zack, Hitomi, Kokoro, and Makoto walked through a Hollywood back lot looking for Jann Lee.
"I can't believe they let us in," said Makoto.
Zack pointed at Kokoro and Hitomi. "It wasn't too hard to convince security that these two lovely ladies were extras in this movie."
Kokoro blushed.
"Keep your eyes peeled for Lee," said Hitomi.
Kokoro spotted Jann Lee standing by the craft services table chatting with the director. "There he is."
Zack patted Hitomi on the shoulder. "Time to work your charm, baby girl."
Suddenly, another man brushed past them and walked briskly toward Lee and the director.
"Oh my, it's Fei Long," Makoto gasped.
"Bobby! What in the heck is going on here?" Fei Long shouted. "My agent told me I was coming here
for the leading role, not some pass the torch cameo."
"Fei! brother, that was the original plan, but the studio had different ideas," said Bobby. "It's still a killer part though trust me."
"Cut the crap, Bobby!" Fei Long eyed up Jann Lee. "Is this the guy they want to replace me with?"
Bobby shrugged. "The studio is looking for the new hot action star in Hollywood, and some scouts think this is the guy. His name is Jann Lee."
Jann Lee held out his hand to shake Fei Long's, but Fei Long did not reciprocate.
"Don't be like this, Fei. You had a great run," said Bobby.
Fei Long regarded the director with disgust. "What are you saying? You think I'm too old? I'm in my prime!"
"No one is suggesting you are not still an incredible fighter or actor, but it's all about what comes across best on film," said Bobby.
Fei Long lifted his index finger. "What comes across on film the best is legitimate skill. And no one has more skill than me."
"Hold on a minute," Jann interrupted. "Don't underestimate my abilities. I did win the last Dead or Alive Tournament!"
Zack and the girls continued to watch the scene unfold from a distance.
"I'm still upset that I didn't beat him in the finals," Hitomi whispered to Kokoro.
"Such a feat does not impress me," said Fei Long.
Jann Lee hopped around and loosened his arms. "Would it impress you if I beat you right here and now in front of the whole crew?"
Fei Long smiled. "You could try, but you would fail."
"Now everybody just calm down for a minute," Bobby pleaded.
"I always wanted to take on the world famous Fei Long. See if he is as really good as the movies make him out to be, or if its only movie magic," Jann Lee taunted.
"There is no movie magic to my skill," Fei Long insisted.
Zack buried his head in his hands. "This isn't happening. This isn't happening. Why can't this job be easy? Why do I have the worst luck?"
Fei Long and Jann Lee stood nose to nose. Bobby tried his best to gain control of the situation.
"Listen to me, if either one of you gets hurt or bruised in an actual fight then neither one of you will make the movie."
"It's a matter of pride now," said Jann Lee.
"I couldn't agree more," added Fei Long.
The two martial artists prepared to square off.
"Maybe I should call security?" Bobby wondered aloud.
Hitomi grabbed his arm gently. "Please don't. I think this is going to be an outstanding fight and I want to see it."
Bobby smiled at her. "I guess a little sparring never hurt anyone." Suddenly, a strange realization set in. "Wait a minute, who are you again?"