GAINING AN EDGE: A MASSIVE FIGHTING GAME CROSSOVER
PART IX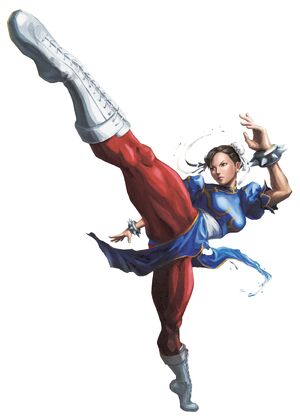 Balrog sat at the interrogation table with a snarl on his face. Chun Li entered the room, but Balrog did not give her a chance to speak.
"Your wastin' yo' time. I ain't tellin you nothin'," declared Balrog.
"On the contrary Mr. Balrog, you're going to tell us everything you know about this treasure hunt that Bison is on," said Chun Li.
"Why don't you come over here and make me," Balrog retorted.
"If I have to, I will," said Chun Li.
Balrog laughed. "You and what army, princess?"
"I'm glad you asked."
Chun Li pushed open the door and three women stepped in and glared at Balrog. "May I present Helena Douglas, she was the sponsor of the event you tried to rob, and more importantly a skilled fighter from the Dead or Alive tournaments. You also may recognize Lili Rochefort and Asuka Kazama, they were the two winning participants from the event."
Helena spoke up. "These two ladies were kind enough to accept our invitation to join the investigation into Victor Donovan, Kazuya Mishima, and your boss."
Balrog looked over the four women standing across from him. "Am I supposed to be intimidated by a bunch of girls? Like I said before I ain't tellin' you nothin'."
A mischievous grin appeared on Lili's face. "I was hoping you would say that."
In one quick motion, Lili kicked Balrog out of his chair. The enraged boxer gathered himself up, but was struck from behind by Helena. The four women continued to knock around the brawny bruiser for fifteen minutes before he finally had enough.
"Alright, alright, I tell ya whatever you want to know," Balrog pleaded.
"What is Bison looking for?" Chun Li asked with a smile on her face.
"I don't know," answered Balrog.
Asuka and Lili lifted their arms to strike. Balrog quickly raised both arms to defend himself.
"I swear, I don't know," he insisted. "I just know it's called Soul Edge. Supposedly, one of those pansies from the King of the Iron Fist tournament knows where it's located. That's who I was supposed to be looking for."
Chun Li nodded her head. "Yes, we found their pictures on your person after your fight with Paul Phoenix."
Helena rubbed her chin. "Soul Edge? I must go research this."
She quickly left the room.
"The King of the Iron Fist is our tournament. I wonder who they are talking about?" Asuka wondered.
Lili shrugged.
"Do you ladies know how to get into contact with the other fighters from your tournament?" asked Chun Li.
"Some of them. I saw Paul and Law working for Miss Douglas. They might be able to contact more," Asuka suggested.
"Okay, you four contact who you can and find out if they know anything about this Soul Edge, I'm going to get more bodies for us to help track down the more elusive fighters from your tournament," Chun Li instructed. "Something tells me the key will be one of them."
"We're on it."
Asuka and Lili left the interrogation room.
Chun Li glanced over at an ashamed Balrog and announced triumphantly. "As for you, I've been waiting a long time to say this, you are going to jail!"
----------------------------------------------------------------------------------------------------------------------
In a small town in China, Yang ran around the streets and through his family owned restaurant to find his twin brother, Yun.
Upon seeing him, his brother laughed. "Yang, why you running around like that? What's your rush, bro?"
"I received a call from Chun Li," Yang informed. "She needs our help."
Yun's demeanor changed. "Of course we'll help. Where is she?"
"In America. Pack your bag, we need to leave as soon as possible," said Yang.
Yun nodded. Several minutes later, Yang waited impatiently by the restaurant entrance with his roller blades and red travel sack over his shoulder. When Yun finally showed up, he scolded him.
"What's taking so long, we need to go!"
Yun sighed. 'I can't find my skateboard."
"So?"
"You know that's my lucky board, bro. I hate traveling without it," explained Yun.
"Fine. I'll give you ten more minutes. If you can't find it by then we're leaving without it," said Yang.
"Thanks Yang." Yun looked around. "It's obviously not in the restaurant. I must have left it in town somewhere."
Yun walked through all his usual skate locations and asked several villagers if they had seen his skateboard. After failing to find it anywhere else, his last hope was an old factory on the edge of town. Yun was skeptical because he hadn't skateboarded in that factory in a long time, but he held out hope that somehow his board would be there. As he wandered through the factory, a smile started to stretch across Yun's face. There it was, his skateboard leaned against the wall. Yun's joy suddenly turned into suspicion. How did his skateboard get here?
A figure approached him from behind. Yun sensed the man and quickly went into his battle stance. Once Yun got a good look at the man he let out a sigh of relief.
"You scared me death, monk," Yun scolded.
"Do you know your history, boy?" the monk asked.
"All the important things," answered Yun.
"There once was an emperor of China that feared any martial artist becoming greater than himself. As a result, all powerful martial techniques were banned and any one caught practicing them were sentenced to death. The emperor created a clan to accomplish this task, and although the emperor is no longer around the clan still exists bound to its duty," said the monk.
Yun snickered. "I thought you said history not children's stories."
"It is not a story for children, Yun. You are about to find out just how real it is. I, Lei Fei, am a member of that clan and I've been tasked with the responsibility of taking down you and your brother."
Yun glanced over at his skateboard and shook his head. "If you wanted to challenge me to a fight, you didn't have to steal my skateboard. I'm always up for a good fight."
"Were you not listening, Yun? I am not here to simply fight you, I'm here to kill you."