OF STANDS AND FULLBRINGS PART 2: KISS THE GLOVE
(READ FIRST)
It was easier than they thought. Tsukishima and Ginjo managed to overcome As Nodt and keep him down long enough for backup to arrive. "Its good to make sure hes dead…" Ginjo stated, placing his sword into the man's chest. Tsukishima stood quiet and received a message from Rangiku who was using Tenteikura to communicate with allies. "Everyone, the Vandenreich are backing down! Their
Schatten Bereich
is forcing them back to Hueco Mundo! I repeat! They are being forced back to Hueco Mundo!"
The news came as a relief to the duo. As they returned their Fullbrings to their natural states; Shishigawara came back in the now destroyed room. No doubt he had plenty of questions.
~~Three Days Later, New York – 4:56 PM; December 24~~
Because they couldn't go by plane; at risk of being caught, Jotaro and the others went by bus from Florida to New York. A few days past since they started hiding out with Joseph and his family. In the meantime, Hermes was unfortunate enough to deal with the invisible baby: Shizuka. "Damn you! Stop kicking! I can barely find your legs yet you can't stop kicking for one minute!?"
Jolyne was watching the news with the others. It was an international report on the chaos that went on in Japan called "The Yokai Christmas War". Invisible battles were causing destruction across Karakura Town and Moriho. "Could it be an uprising on Stands?" Joseph asked, hacking into a paper towel. Jolyne stood silent; Weather Report wasn't sure either, but he was more concerned at the possibility that Enrico may have survived and traveled to Moriho to cause trouble. Before the group could think any further; a loud explosion was heard across the city. Jolyne quickly looked out and noticed a fallen person. She was wearing black clothing, had raven hair, white gloves, and blue eyes. In her hands was a katana. Her foe: a man in a white cloak overlooking his white uniform; blonde hair, blue eyes, and noticeably taller; was towering over her.
"Rukia Kuchiki. Ally to Ichigo Kurosaki. It must be my luck to bring you here, far from your friends." Noted the man. "I, Stern Ritter T: The Traveler; Jan Klien, will have the pleasure of killing you and bringing your head to Soul Society!" he laughed. As the raven-haired girl clenched her teeth; she noticed what appeared to be string wrapped around him. Jan took notice and pulled on it, pulling a sword from his belt buckle. As he tried to cut the string, he was pulled to Jolyne who unleashed a fury of rapid-fire punches,
"Oraoraoraoraoraoraoraoraoraora!!!"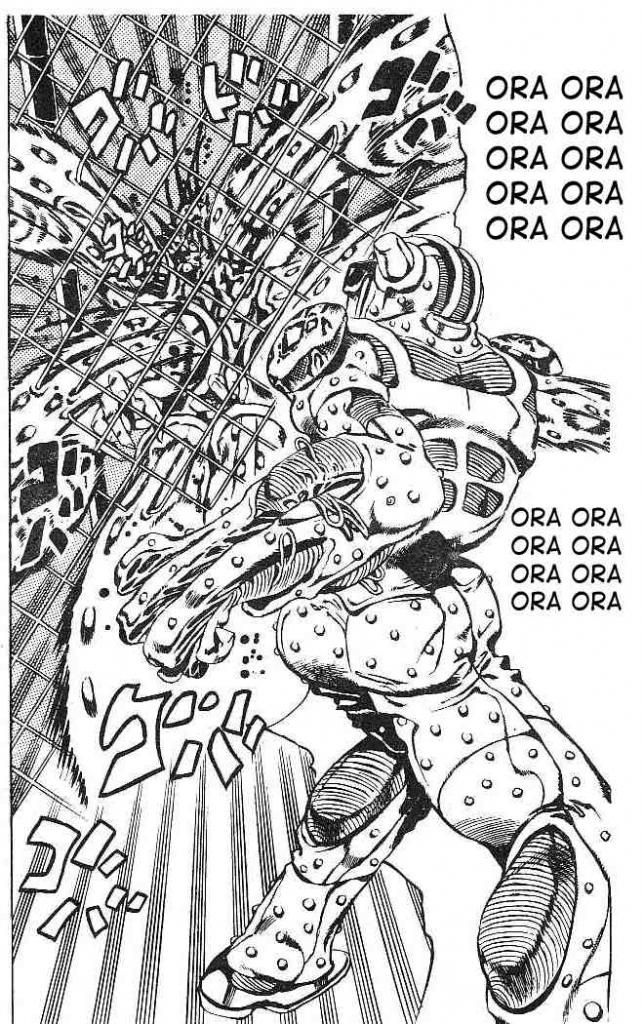 After the fury; Jan fell over, unconscious. As he tried to pull himself together; confused at the event, he felt his entire body shrouded in ice. "First Dance: Tsuki shiro." Rukia whispered, with that, a pillar of ice ascended into the heavens and froze Jan in place, followed by cracking and falling apart. As Rukia sctheced her sword, she looked up at her unlikely savor.
Under normal circumstances; Rukia would've wiped the mind of any human who sees her; but considering the young woman saved her; it was better to see why. Rukia vanished and reappeared inside the apartment room, much to everyone's shock.
"You, the green haired woman. You can see me can you?" Rukia asked. Jolyne stood still and placed a hand on her hip. "I take it you're supposed to be one of those 'Yokai' on the news?" she asked, ignoring Rukia's question. The Soul Reaper already knew what she meant. "First of all, thank you. Second, I'm not a Yokai, I'm a Soul Reaper. Lieutenant of Squad 12, Rukia Kuchiki." She replied. Despite her Asian appearance, she seemed rather fluent in English.
"You seem quite calm with teleporting in the middle of a room filled with people. I don't know anything of what you're saying though. Why are you here?" Jolyne asked. "I was fighting that man. He transferred me from my battle spot and brought me here to kill me. Karakura Town was my original destination." Rukia replied.
Jolyne walked over, she was taller than Rukia obviously, but she was surprised on how she could fight so well. "You're a Stand User I take it?" Jolyne asked. "Stand User? I haven't heard of those in decades. No. And your Stands… Good thing I found them. They may be just the key we need to ending this war." She replied.
Rukia went over what happened rather quickly; "The Vandenreich, they are a group of Quincies that survived a massacre hundreds of years ago. They used their weapons to hunt Hollows. However, their weapons destroy the very soul. Once an influx from the lack of Souls balancing our realms occurs, it rips apart the very fabric of existence. These Quincies are here to exterminate the Soul Reapers as payback. Thus, destroying reality itself." She stated.
Everyone was capable of following her story perfectly. "But, I can't just share the story of your Stands just yet. However, I need your help in the long run. We need all the Stand Users we can get. So if you know of any, that will be much appreciated." Rukia finished.
"Okay, this story is just getting out of control!" Hermes yelled. "I can follow the part about the Vandenreich and Soul Slayers or whatever, but we can't teleport or fly." She reasoned. "Exactly, however, Stands have a history. I'll explain it later. Right now, we need a plane to the town Moriho. The quicker the better." Rukia replied in a hurry. Joseph looked at her and hummed to himself. "Damn, from Vampires to Ghosts. My life is so eventful that I wish I was still young." He cackled. "Jotaro, get the Speedwagon Foundation on the phone. They can provide a jet to get to Moriho ASAP." Joseph demanded.
~~~MORIHO TOWN; December 25~~~
Josuke sighed in anger as he helped repair a house. Just the other day; a red-haired man crashed into his house and he ended up killing a strange man in white. The redhead introduced himself as Renji Abari, but frankly he didn't care. In the same day, he and Okuyasu were assisting Shishigawara and Tsukishima in a brawl against the same man in white. Now, according to Renji; he may have to help in a war. No different than fighting Kira he supposed.
"Josuke, I got a call from Jotaro. He and his daughter are coming to Moriho to help fight the Vandenreich!" Koichi yelled, hurrying to his location. "Huh? How on earth did they get the news?" Josuke asked. "According to Jotaro, someone named Rukia needed help and they agreed. Its similar to what happened here and in Italy." Replied the smaller teen.
"Well as long as they're here to help, I don't care too much." Josuke mentioned. Renji sighed and continued to wait for a Hell Butterfly for any updates.
~~December 26~~
When the group arrived; they quickly got together to discuss the business at hand. They caught a break and learned that the Vandenreich were resting up back in Hueco Mundo. Instead of getting any news from the new Head Captain; Shunsui Kyoraku; they had to train immediately. The confused group didn't expect to get answers, but it was bugging them enough that they weren't even aware of anything at all. No wonder they were having trouble against the Vandenreich.
The teams paired up quickly; Hermes and Jolyne vs. Shishigawara and Tsukishima was the first round.
Shishigawara gulped. During the entire meet, he was distracted by Hermes. The tomboyish and rough young woman seemed to have the flare he liked in a woman. Hermes however, didn't seem interested in him.
"Now, Shishigawara-kun, don't be so impatient." Tsukishima teased, knowing about the crush. "I-I'm not being impatient!" Shishigawara replied bluntly. Joylne smirked and whispered to Hermes. "I think someone has a crush on you." She teased. Hermes didn't respond, more confused than angry.
As the two teams faced off, they were instructed on the other team's abilities. They were ready for combat, and at the start of a leaf hitting the ground, the battle begun!
RULES
The teams are aware of the other team's abilities. Tsukishima and Shishigawara however, still cannot see the Stands.
The teams can only work together. No outside assistance.
The battle goes until one team surrenders.
Tsukishima cannot use his Bringer Light; therefore he cannot speed blitz.