Part 1: Demona vs. Kraven the Hunter





Part 2


It has indeed been an interesting (and long) night for Kraven the Hunter in his attempts to capture the rogue gargoyle, Demona. Their battle has raged on across much of Manhattan and for much of the night, as evident by the skies now taking on the familiar light bluish-gray hue of the impending dawn. Both combatants have taken their their share of lumps and bruises, but Kraven in particular has seen better days. He has amassed several deep lacerations from Demona's claws, as well as laser burns due to near-misses from her laser cannon. Fortunately for him, he has managed to evade her shots long enough for her weapon to burn out. However, he has also used up most of his own arsenal in the battle.

Kraven has at the moment managed to elude the blue-hued gargoyle's sight. He walks across the roof of an abandoned building in a desolate side of town, painfully clutching his side and on the brink of exhaustion. Even in his weakened state, Kraven is still every bit as determined as ever to capture his quarry, mainly for his own enjoyment of the hunt, but partially for the huge sum of money he was paid for this job. He knows, though, he has to stay vigilant or be killed, so he continues to keep an eye out for his deadly quarry.

He suddenly hears a whoosing sound, but barely has time to turn around before Demona glides in and grabs him by his vest.

"Why have your incessant taunts ceased, human? Perhaps you've finally realized you're hopelessly outmatched against a gargoyle!" Demona says with a devilish grin as she glides low while dragging Kraven across the roof back first.

The villainess has several cuts and bruises herself, including some small gashes in her wings, but is not nearly as battered and drained as the Hunter. She had planned to torture Kraven to learn the name of his employer, and has even tried to make an escape from the persistent man at some point. After a long night of fighting, though, she is perfectly satisfied with finishing this human pest once and for all.

Damn! The dawn is near! Demona laments as she looks up at the skies. I had better finish this fool quickly, before he gains the true advantage.

The various scattered debris on the roof gives the Hunter an additional beating, so much so that he can't reach for any of his remaining weapons. He tries kicking at Demona, but between the dragging and his current condition, he can't put any real force behind the blows. Out of the corner of his eye, he sees a steel pipe. While the gargoyle is distracted, Kraven manages to grab the object just as he's dragged toward it.

"Though a small part of me actually admires your perseverance, this is where it ends," Demona says.

Just as they reach the edge of the roof, Kraven grabs Demona's wrist with his free hand, then hits the villainess across her cheekbone with a sweeping motion of the pipe. They both then go tumbling head over heels over each other toward the ground far below. Since Demona is drifting out of consciousness, she can't glide to safety. They are both also falling far too quickly for Kraven to try to throw his grapple.

Only one chance... thinks Kraven.

Seeing no other alternative, Kraven struggles to manuever Demona so she hits ground first. Just before impact, the Hunter succeeds, and falls on top of the gargoyle as they both hit the pavement. The momentum bounces the man yards away immediately afterward. After falling from over twelve stories and with her neck horribly twisted, Demona dies instantly. And though the gargoyle takes the brunt of the fall, Kraven is hurt from the impact as well, and he soon blacks out.

Kraven wakes up a few minutes later, aching all over with a touch of vertigo. His haze quickly clears, however, at a sudden realization.

"Nyet! How long was I out?!" the Hunter exclaims as he starts to stand. "I must secure her before--"

He is abruptly cut off by a now-familiar growl and a vicious backhanded fist that sends him flying.

"Too late, human!" says a resurrected and fresh Demona with muted rage. "I warned you what would come of my demise. Now you will finally pay for crossing me with your life!"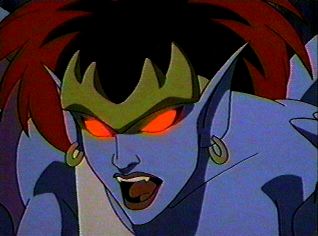 Eyes glowing red with fury, Demona leaps at the downed hunter growling and with claws poised for the kill. Kraven puts an arm up in defense just as she completes her pounce. They tumble for a moment, ending with Demona on top. The gargoyle sits up and feels a sharp pain in her stomach. It is then that she notices Kraven's last three tranquilizer darts sticking in her abdomen.

"You... I'll..."

With a last growl, she finally falls unconscious.

After a long night, Kraven, battered and weak as he is, feels a strong sense of pride after finally managing to subdue the blue-hued beast. But he would not get to enjoy his satisfaction for long.

"She almost finished you," booms a robust voice with a thick South American accent. "Our employer would not have been pleased."

"You," Kraven growls in disdain, recognizing the voice right away as he painfully makes his way toward Demona. A large, muscular man, larger even than Kraven, steps out of the shadows, clad in black pants and tank top and wearing a luchador-like mask. "Bane. Why are you intruding on my hunt?"

"I was... curious. I wanted to see a 'master hunter' in action," replies the larger man with a hint of sarcasm. "I can see you enjoy the chase too much."

"What would a mere 'wrestler' know of a hunt?" scoffs Kraven, clearly mocking the man's attire.

"I know that you must study your quarry, know it intimately, instead of merely charging in like a rabid dog. That is the best way to learn to BREAK it," replies Bane.

"I have studied this creature long enough, and I have much more skill than a 'rabid dog'," snarls Kraven, what little patience he has left for Bane's presence quickly wearing thin. "You, however, have 'studied' your prey for so long, that I begin to wonder if you actually fear these creatures."

"They will know the true meaning of fear soon enough, as may you, cazodor," says Bane, smirking under his mask.

"Bah! Is it not time, then, for you to--"

Kraven turns to face Bane, but sees he is already gone. At that moment, the sun fully rises, and Kraven's attention is diverted to Demona as her limp form transforms to that of a human woman. He wastes no time in tying her up in strong metal bonds.

-----------------------------------------------------------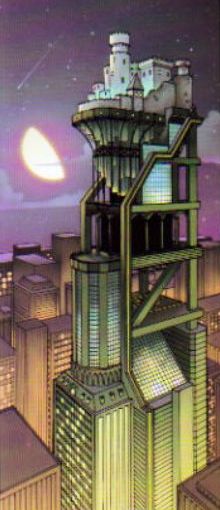 As dusk falls upon Castle Wyvern high atop the Eyrie Building, the stone gargoyle statues on the castle's highest tower start to crack and then break apart, revealing the Manhattan Clan awakened from their daily slumber. For the past few weeks, the Gargoyles have been living back at their ancestral home, courtesy of David Xanatos's gratitude for Goliath saving his son. While the Xanatoses are away in London, the Clan has free reign of the place. At this moment, all but the Clan's leader, Goliath, seem to be in good spirits.

"Still worried about Elisa, lad?" asks Hudson.

"It is strange we have not seen or heard from her in days," Goliath responds with a nod and his typical stern look. It has been a few weeks since Goliath and Elisa Maza finally declared their love for each other for the first time. With that, they had also started being a bit more open to each other. But as of four days ago, the human detective has suddenly dropped out of sight.

"Maybe Elisa's just working undercover again, Goliath," suggests Broadway. "It's all part of her being a detective."

"Aye, perhaps you're right," replies the clan leader. "Still, I think I'll look for her again tonight, just to be certain."

"We could all help you search again, father," says Angela. "We are all friends of Elisa, too."

"No, there's no need to panic just yet," Goliath responds as he walks to the tower's edge. "I'll take up the search alone this time."

"Besides," he continues, turning to his clan with a reassuring smile. "you all have your own plans for tonight."

The gargoyle leader then leaps from the tower and takes off into the Manhattan night. Brooklyn and Lexington are next to promptly swoop in another directon. Angela takes one last look at Goliath before she and Broadway take off soon afterward in yet another direction.

-----------------------------------------------------------

Hours later, after another long night of futile searching for Elisa, Goliath finally returns home. He lands on the castle's highest tower, where Hudson and Bronx are waiting.

"Did you find anything new, Goliath?" asks Hudson.

"No," replies Goliath in a disappointed tone. "Where are Angela and the Trio?"

"Hmm,... I haven't seen them since they left," says Hudson. "It is a bit peculiar that they haven't returned yet. But I wouldn't worry just yet. Angela and the lads can take care of themselves."

"I hope you're right, old friend," replies Goliath. "Come. The sun approaches. If the others are safe, they have likely found a safe perch by now."

And with that, the three remaining gargoyles pose in their usual positions on the tower, turning back to stone just as the sun rises.

-----------------------------------------------------------

As the sun sets again the next night, the gargoyles once again awaken from their stone sleep. Goliath briefly looks with concern into the Mahattan skyline, and without saying a word, glides off into the night. Hudson starts to say something, but knowing Goliath's worry over Elisa is increasing with each passing night, he thinks better of it and heads with Bronx back to their usual spot in front of the television.

A few hours later, Goliath perches himself on an apartment complex's roof and scans the surrounding area once more. Sighing to himself, he thinks about heading back home when out of the corner of his eye he notices a large silouetted mass moving quickly in the distance. The gargoyle turns just in time to see a limp wing hanging out from in front of the figure's arm.

A gargoyle wing.

This ellicits a brief growl from Goliath, and he starts to silently pursue the figure. After a few minutes of silent chase, the figure darts into a large warehouse, Goliath is gliding just close enough to see this and lands at the building's entrance soon afterward.

The large gargoyle walks in, the sounds of the machinery inside echoing loudly throughout its walls. So loudly, in fact, that Goliath almost doesn't hear some muffling sounds a minute after walking down a long hall. He follows the faint muffles to a doorway leading to a large, dimly lit room with six steel pillars and two running conveyor belts flanking them on either side. Goliath walks in, and as he steps in futher, he notices that several figures are shackled tightly to the left and right walls of the room. He lets out an audible gasp when he makes the figures on one side out to be Elisa Maza, Brooklyn, and Lexington.

"Elisa?" says Goliath.

"Goliath!" exclaims Elisa.

Goliath immediately rushes to Elisa's side, glad to see her for the first time in days. "Who did this to you?!"

"A huge, masked man that I've never seen before," she replies. "He took me right out of my apartment. Knocked me out before I could see him there."

"Yeah, he did this same with the rest of us and brought us here," chimes in Brooklyn.

"One human did this to the entire clan?" asks Goliath, slightly startled at this revelation.

"Yeah, he took us down in pairs, I think," adds Lexingtion. "I'm embarrassed to say that Brooklyn and I almost didn't see what hit us."

"Well, I am certain he cannot defeat the entire clan all at once," the lavender-skinned gargoyle says as he starts to tug at Elisa's restraints. "I'll soon have all of--"

"I wouldn't waste my time with that," says a voice from where Goliath can't see. "Those shackles are made from the strongest titanium alloy. I doubt either of us could break them."

"Besides," says Bane as he reveals himself on a catwalk high above Goliath and the rest. "you will be needing your strength very soon."

"Who are you?" demands Goliath, almost immediately sensing virtual evil from this man. "And why have you done this?"

Bane hops down from the catwalk, then catches and kicks off the nearest pillar, landing on his feet near the wall opposite from Goliath where Broadway, Angela, and an unconscious Hudson and Bronx are shackled.

"I will show you who I am," Bane replies. "Honestly, I did not expect you to find me here. But this saves me the trouble of hunting you down myself."

"So that is it, then? You kidnap my clan, and you intend to kill us all?"

"If I merely wanted to kill you, you all would already be dead. Your kind is pathetically vulnerable in its stone sleep," replies Bane coldly, eliciting a growl from Goliath.




"No, I have been hired to subdue you, the girl, and your clan. And I have taken your clan with my bare hands, but not quite as easily as I imagined. Gargoyles are.. resilient," continues Bane, looking to and rubbing at noticeably large claw marks on his left chest area. "The corpulent one and the young female put up the best fight."

"Hired by whom, and to what end?" inquires Goliath.

"You will find out in time," he answers. "But for now, since you are here, I am willing to give you a chance to reclaim your friends."

Bane reaches into his pocket and pulls out a chain with a key attached, then fits the chain around his muscular neck.

"If you can defeat me in combat and take this key from my possession, you and your clan can go as you please," Bane offers. "If you cannot, you will all be my prisoners and my employer will do with you as he wishes."

"If that is what it will take, human," Goliath responds with a low growl as his eyes glow white once again. "so be it!"

"A fair warning, creature," Bane calmly walks toward Angela as he adjusts a dial on the back of his left hand. "This will be the most brutal battle you have ever faced."

Bane suddenly arches his back and convulses where he stands. The villain yells out as his muscle mass greatly increases, almost stretching the chain on his neck to its limits. As this happens, he also grows to nearly the same height as Goliath. The gargoyle is taken aback by this sight, but is far from intimidated.

"Watch out, Goliath!" cries Angela. "He took this same form when he fought Broadway and I!"

Bane, breathing harshly, turns toward the young gargoyle with a near-feral look in his eyes. Angela only has time to briefly growl at Bane before he stikes her with a vicious right hook, nearly knocking her unconscious.

This is more than Goliath can bear. The mighty gargoyle lets out a furious, terrifying roar, his wings unfolding fully and eyes glowing white as he stands erect.

"Yes, that's it, animale! Don't hold back! Unleash your FULL fury! GIVE ME YOUR ALL!!"

In response, Goliath gets on all fours and charges.