Continued from Ryu Hayabusa vs Vergil (DMC)
Vergil laid beaten and battered on the floor as he was passed out in a pool of his own blood. Ryu made his way through Ra's al Ghul's fortress as he had finally found walter in one of the cells underground. The two men embraced as Ryu made his way back to the States with Walter. Back in the States as soon as they landed thanks to help from Lexscorp with the transportation they immediately got Walter to a hospital.
Days Later...
Ryu sat with Walter back at his place in Metropolis who had bruises on his body that were still healing. The two men sat at the dinner table as they ate a Sushi meal they had delivered as they spoke about recent events.
Walter: My god look at you now Ryu. Your father would be proud. To defeat someone as powerful as one of the sons of Sparda shows you have even surpassed your father.
Ryu: Thank you. It is a honor to receive such a kind words. May I ask do you know what has happened to my father? He wanted me to see you and he said you would know what I need to do?
Walter: Yes...Yes...We have been catching up but I suppose its time to get down to business. Your father as you know when studying the martial artists went on many quests around the world fighting to become not only a better martial artist but what it means to be a true leader so he could lead the Clan to glory. On many travels he found powerful artifacts and powers that many never knew existed. One such thing was something called the Jenova a alien lifeform.
Ryu: Yes I have heard of it. My friend Cloud stopped a powerful evil called Sepiroth along with his master Jenova from using the lifeforce and it's power to become a God. He told me Sepiroth would have destroyed the planet. I don't have all the details I know they wanted to go across the Universe killing planets until they found their very own.
Walter: Yes you are right about that. Well your father was the one who helped trap Jenova in the first place.
Ryu: This he never told me.
Walter: He never had to because he and the others thought they didn't have to worry about it again. Up until months ago when he found out the tomb had been open and Jenova had been released.
Ryu: I don't like where this is going.
Walter: Your father traveled to the tomb to find out what happened when he was attacked by Jenova's most loyal servant.
Ryu: Sepiroth. I just saw Cloud and we sparred together. Why didn't he...
Walter: Cloud doesn't know yet and neither does anyone else.
Ryu: How did Sepiroth come back to life? Kadaj and the rest were killed so he couldn't have been reborn.
Walter: That is something I don't have the answer to but it isn't important. What's important is that you stop Sepiroth from continuing his goal once again.
Ryu: What happened to my father? Is he dead?
Walter: I don't know. Your father's transmission he sent me ended. I don't know what Sepiroth did to him and what he is up to now. You friend Cloud is probably on his way to fight him now. This time I don't thing he may win. Sepiroth your father did say had found a way to become more powerful then when Cloud originally fought him.
Ryu: I need to get to Sepiroth before Cloud does and fast.
Walter: I will take care of that.
Ryu: Good because I know exactly where he is going to.
Walter: The same place he fought Cloud where you and Cloud sparred?
Ryu: Yea. Its most definitely the perfect place for Sepiroth to take control of the lifeforce since its the strongest there for some reason.
Walter: Good. Get your things ready. You have one hell of a fight ahead of you.
48 Hours Later...
Ryu arrives in Midgar as he searches for Cloud. Ryu comes across Cloud who is badly wounded in the chest area and is bleeding repeatly. Cloud can barely move as he looks to Ryu as struggles to speak.
Cloud: Hey...Ryu..
Ryu: Cloud my friend always the noble hero who feels its his sole duty to protect this world. Have you forgotten your not the only warrior?
Cloud coughs up blood as Ryu checks his wound and takes out some magic herbs that he gives to Cloud.
Cloud: I felt Sepiroth was my responsible to take care of.
Ryu: Not anymore. Take these herbs as they will heal you. I have someone coming back to pick you up. Sepiroth and Jenova quest for the Godhood ends now.
Cloud: Be careful he...
Ryu: Is more powerful then before. Don't worry I have come prepared.\
Cloud: Good luck.
Ryu turns around as Sepiroth stands on a broken building nearby waiting silently with a grin on his face.
Sepiroth: Your right this ends now. Although if Cloud couldn't defeat me what makes you think you will? Your father tried too and he...Well lets just say he is in a better place Ryu.
Ryu pulled out his one true dragon sword in anger as he stood in his legendary falcon armor.
Ryu: I am going to kill you and end this now. Then I end Jenova completing what my father started. You ask why will I defeat you? It is because it is my destiny to defeat evil like you whenever it arises.
Ryu runs as he super speeds toward Sepiroth with a rush of power as Sepiroth does the same as the building collapses under his power as he flies toward Ryu.
Let the battle begin.
Ryu Hayabusa in his legendary falcon armor with his one dragon sword
vs Sepiroth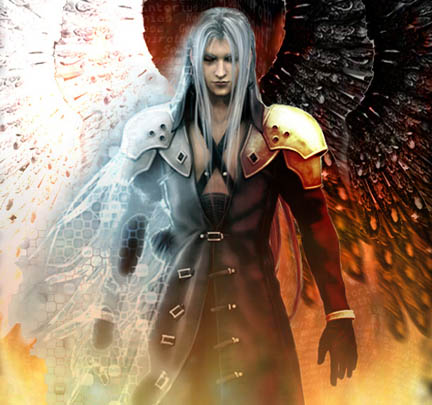 This takes place after Advent Children for Sepiroth and he has been reborn like he was in that movie. Both men have all their powers and abilities.