I've been noticing for some time that more than a few users, both new and old, have went to create an official match or a rumble, only to end up posting said match or rumble blank. I'm creating this topic to, hopefully, to give an explanation for why this is happening.
For those not in the know, this is an example of how your control panel looks just before you're ready to start posting your battle: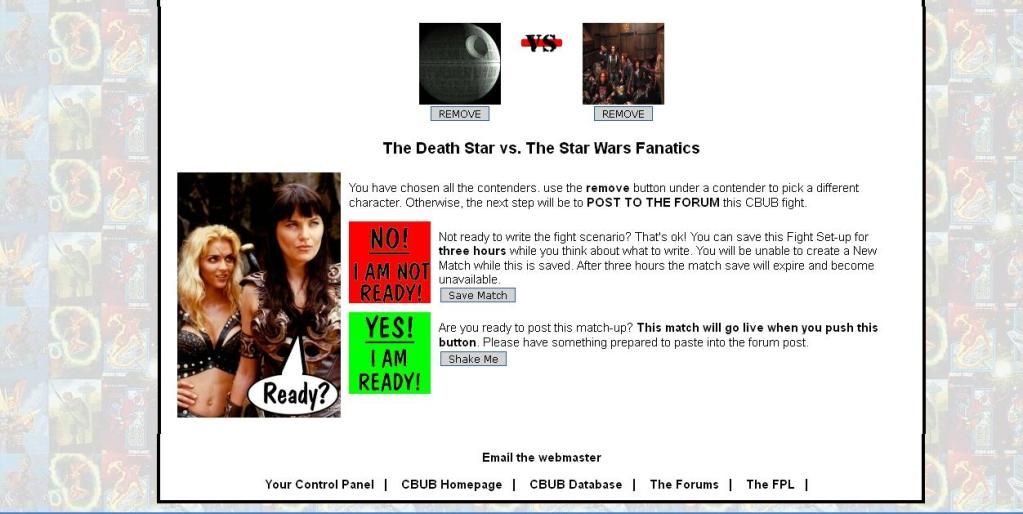 I'm sure sirmethos doesn't mind me "borrowing" his screencap here.
I'm going to discuss the "Save Match" option in particular, as shown here:

No doubt some of you may not have been quite ready to post a full scenario, and have seen this option, thinking what you've typed or copy/pasted so far would be saved for three hours or when you could get back to it, whichever came first. In fact, it was a pretty popular option for many matchmakers here for years.
Since electricferret's most recent updates some months ago, however, this is
no longer
the case. From what I've gathered from users that have tried it, it seems that when one chooses "Save Match", the match goes live
immediately
, and whatever one had typed up or copy/pasted ended up deleted, instead leaving the "USERNAME Enter your Set-Up for the match here. This is your post - it belongs to you - and you may use the
EDIT
function at any time in the future to update this post" message in its place. I'm sure more than a few people have used the "Save Match" option, thinking that whatever scenario they had started would be saved, only to instead find that the match had already posted blank, and the scenario was gone. Many of them have even received low grades from the CBUB Match Judges for posting no set-up.
This is obviously a bug in the system, and it affects the CBUB matches, control panel-created CBUB Rumbles, and likely FPL matches as well. Will this bug be fixed in the future, or will the "Save Match" function be removed altogether? Who knows? But in the meantime, there's a simple solution for this problem.
If you feel you cannot type out a scenario for a match or rumble in a reasonable amount of time,
DON'T
go for the control panel right away. Instead, type it out on a text editor (Notepad, Wordpad, TextPad, Microsoft Word, etc.) first, save it if necessary, have it ready to copy/paste, and
then
go to create your match/rumble. Hopefully, this will prevent set-ups from getting erased, and prevent bad grades from coming your way as well.