Vincent Kennedy McMahon entered his Connecticut office to find a man already sitting in his chair.
"Who the hell are you?" demanded Vince. "I'm calling security."
The man stopped Vince from picking up the phone. "I mean you no ill will. I'm only here with a business proposal.
"There are more professional ways to set up a meeting," Vince hissed.
"I was worried that you wouldn't see me if you knew who I was, and this is too much of a lucrative oportunity to pass up."
"Who are you?"
My name is Victor Donovan."
"Donovan? Donovan? I know that name... oh wait you are the man who runs those DAO or is it ADO fighting tournaments. I'm not interested."
"It's DOA for Dead or Alive," said Donovan. "Just hear me out and then you can make your decision."
Vince waited patiently.
"I know you have Wrestlemania coming up and I know you are looking for that big draw match-up, that match-up that will bring in all the casual fans in and drive up pay per view buyrates," said Donovan.
"And I suppose you are going to tell me what that match-up should be," Vince replied smugly.
"I have an idea. A real legit fight. No planned ending, no holding back."
"I knew it. Why don't you go raid Dana White's office. I'm not interested," Vince repeated.
"I'm not talking about a UFC fight. I am talking about a real wrestling match between two wrestlers that are real tough guys."
Vince thought it over. "It is an intriguing idea. But, not having creative control of a match is too risky. It can lead to unmitigated disasters like the Brawl 4 All."
"Brawl for All?" repeated Donovan.
"It's a long story." Vince rolled his eyes.
"What if the specific match-up makes the potential risks worth it?" asked Donovan.
"Just tell me who you are thinking of," said Vince.
"I have three words for you: Hogan versus Andre."
Vince laughed. "I'm not sure if you are aware, but Andre has been dead for almost 20 years now. And I wouldn't put Hogan anywhere near a Wrestlemania main event at this point, much less one that is a real fight."
"Do you know who Hugo Andore is?" asked Donovan.
"Yeah, the Andre wannabe. His manager, Poison, has been trying to get him into the WWE for years, but he has a criminal past," said Vince.
"So did Mike Tyson," countered Donovan. "How about Bass Armstrong? You familiar with him?"
"Armstrong? Ha! He is not even a has been, he is a never was. I hear he is ripping off Hogan's nWo Hollywood look these days. You can't possibly be suggesting using Bass and Andore as stand-ins for Hogan and Andre."
"No. We would never say that it was Hogan vs. Andre, but the striking physical resemblances are there. So, you would be doing something new and exciting while at the same time capitalizing on a nostalgic image," explained Donovan. "Think about all the aspects at play with a Bass Armstrong vs. Hugo Andore match. You would be doing a type of match never before done in WWE between two famous wrestlers that have never stepped foot in a WWE ring before, and have never faced each other, and are actually real fighters. Bass is a common fixture in my Dead or Alive Tournaments and Hugo has competed in the World Warrior Tournament. A one time real professional wrestling match for a once in a lifetime experience."
The wheels started spinning in Vince's head.
"I would have just put together the fight myself, but I'm a realist," said Donovan. "The lucrative potential for this match can only be fully realized on the grandest stage of professional wrestling with the one of a kind WWE hype machine pushing it forward."
Vince's eyes lit up. "Yes, a Hogan/Andre type poster will sell itself! We can bring in Poison to work as Hugo's mouthpiece since he struggles on promos. We can also use her and Tina Armstrong as added eye candy for the feud building up to Wrestlemania."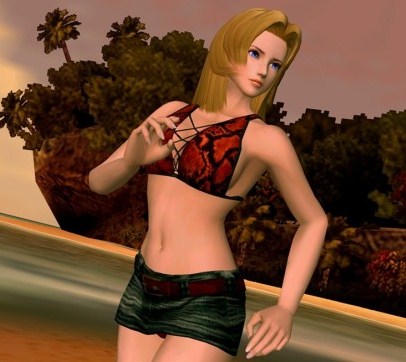 "You are aware that Poison is...."
Vince cut in. "I am aware. But, I'm fairly confident that the public at large is not. Of course, both Hugo and Bass will have to sign contracts where they agree not to participate in any fighting tournaments leading up to Wrestlemania." Vince grinned and extended his hand. "With that being said, Victor Donovan I believe we have a deal."