This guy was my submission for Treach's last tournament that never got off the ground. I was paired up with Bobisbeast and we came up with a dinosaur and mole man duo who found themselves torn apart due to some apocalyptic spiritual beliefs. Figured I'd go ahead and post my side of the duo and see what peeps think. I might toss this guy into the FPL eventually regardless of whether Bub's able to get his dude done.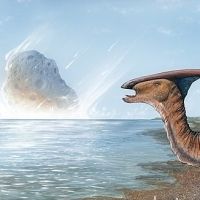 HadroxuxMaleVillainKALINaturalStrength: Superior
(2)
Agility: Weak
(1)
Body: Superior
(3)
Mind: Weak
(2)
Bio
"Sky City views Earth as a holy land to be protected at all costs. Our homeland of Deep-Dark-Down sees it as a lost brother deserving of our pity. Hell looks to the rock as a drive-thru restaurant filled with easy-to-corrupt souls. None of them realize that this blight of a world is little more than an infertile, unnatural, insufferable blight upon the universe.
"Life is not native to Earth. The primordial soup was exported from other worlds in this system. The inhospitable, chaotic surface was terraformed by Venusians and Martians and other denizens of the various Dreamtime worlds. Had it not been for these foolish creatures, Earth would have remained the dead husk nature intended.
"The natives of Nimuru realized this and opposed such blasphemous actions, but they remained in the minority. Life was not destined to appear on Earth, but the collective voice of the system demanded that destiny be defied. Such is the nature of most life in this world-- to believe that free will trumps intent. I can sympathize, as I felt the same way at one time, but only the fool believes he can pave his own path in this world. A mere speck of fleshy matter is inconsequential-- he only gains true power when he embraces the natural flow of reality and helps enact the will of the Gods.
"Earth is the epitome of rebellion against destiny. Even when someone steps in and rights the path, that life which remains always comes back in defiance. Even extinction births hope
"What this world needs isn't another clean slate. It needs a change in philosophy. If I can see that light, so can you Brother. Embrace inevitability."
Personality
"That was a little over-dramatic, wasn't it?" the Hadrosaur said, clearing his throat as he crumpled up a piece of paper and tossed it into a trash can.
The tiny moleman standing on the shoulders of the massive dinosaur nodded in agreement.
"I'm sorry, brother, but the idea has to be put in such melodramatic words because it IS that drastic. They aren't my words, but they are my beliefs. This planet we were born on is unnatural. The life here shouldn't BE here. This isn't just a philosophical issue, it's a spiritual and biological issue. When our ancestors settled on this planet eons ago, they believed they were escaping persecution and creating Eden. All they did was throw the natural order out of whack. When my ancestors summoned the meteors that wiped out life at the end of the Cretaceous Era, they were trying to realign order. With an extra planet teeming with this much life, the cycle of life is running faster than intended. Too many souls are released into the world. Not only do these souls eat up natural resources on this side of life, when those souls die and pass on they REMAIN in the afterlife and devour the resources there. Both sides of the candle are burning faster than the world can handle."
The moleman sat in silence, not believing the words coming out of his old friend's mouth.
"It's a terrible thing I must do, but it's the will of my people. But it isn't my people's burden to carry alone! You can come with me! This may seem like some horrible cult, but we're trying to do just as much good in our own way as you and your hero friends do by saving lives. You save lives in the here and now. We save lives that have yet to be born and who deserve a chance to prosper. Please, brother."
The moleman calmly climbed down from his friend's shoulders and walked away in silence.
The Nimuru BrotherhoodGravitySuperior, AE, Super AE, Ranged, Long Ranged
(10)
Around these parts, doomsday cults are nothing special. It's like a West Texas town where there's more churches than gas stations, with the catch being that said churches expound upon the end of the world and take some action to make said end happen.
But few cults can boast of being successful at bringing about the apocalypse. If that were the case, none of us would be here.
One said cult has been around long enough to have been here during the last apocalypse. During the last days of the Cretaceous Era, members of the Nimuru Brotherhood cast a massive summoning spell, hurling a large meteor from the asteroid belt into the Earth which led to a massive extinction event. The Nimuru Brotherhood is made of remnants of dinosaur immigrants from the proverbial "nemesis planet" that shadows Earth's orbit. While most of these immigrants came to Earth to escape from what they believed to be an oppressive, cult-like regime that policed both sides of this system's spiritual domain and culling any life they deemed "unnecessary," a handful of individuals who were true believes in this ideal infiltrated the migrants.
When the time was right, those infiltrators cast their spell and tried to wipe out Earth in one fell swoop. What life that remained on Earth was hidden away in the various pockets of Hollow Earth-- corners of the world resting between the physical and the spirit. The Brotherhood accepted these remnants as "collateral damage" to their cause, since such minute numbers couldn't possibly rebound with any significance. They never anticipated that life would return with such vigilance from so few scraps.
Since that day, The Nimuru Brotherhood has been thwarted at every subsequent attempt. The occasional rogue Brother would manage to wipe out a small settlement or portion of a continent, but never were they able to repeat their masterpiece.
But unlke most, they have a masterpiece for which they can boast.
Abide the ApocalypseForce of WillSuperior
(14)
The Hadrosaur wanted to be a hero. He felt the natural urges for vengeance when his family and friends from Deep-Dark-Down were slaughtered by overworld invaders, but that wasn't his driving goal. He just wanted to make sure no one else had to suffer so needlessly.
He wouldn't be the first to go down the path of the hero for such a noble goal, and he wouldn't be the first to fall for adhering to such foolish nobility.
It was a routine rescue attempt. A smouldering building. A roof on the verge of collapsing. Several innocents straddled the dinosaurs back as he did his best to shield them from fire and falling debris. As the dinosaur hauled the last of the survivors out of the burning ruins, a small feathered creature perched upon his nose.
"I respect you, Brother," the Urvogel said in the native dinosaur tongue as it stretched its plumage casually. "I may have been the one to start this disaster, but I respect your drive to halt it. It takes a good soul to risk so much for people he doesn't know."
The Hadrosaur uttered a guttural growl, but made no rash movements that would risk the lives of the humans dangling upon his back.
"Patience. Good. I like that as well. You know how to abide. All traits valued by us Brothers. So let me tell you this, Brother, as you attend to your casualties. Can you imagine a world where such travesties never happen? The only reason why tragedy occurs is because the odds allow it to happen. The more souls traipsing about this rock, the more chances there are for misfortune to befall these innocents.
"It's all about the odds, Brother. The more times you cast the dice, the more chances you have of a particular situation happening.
"Now imagine a world where those odds are all but negated. The rare catastrophe occurs, since you can only avoid them for so long, but if you roll those dice at a slower rate you avoid the worst result more often. The only reason why these souls are suffering is because they exist in this time and place. Had they been born on another world and at a more opportune time, this scenario wouldn't transpire. Or even better, maybe they would never have been born, allowing their spiritual potential to be at rest in the Maker's aether.
"Think about that possibility, Brother, and seek me out another day."
The Urvogel fluttered off, knowing full well that his words wormed their way into the Hadrosaur's mind. It wasn't the next day. It wasn't the next week. But those words hung heavy upon the dinosaur, and he soon sought out that feathered fiend and learned of his kind's great history.
He learned that his dream of peace was attainable, but that he would have to approach it from an angle he never expected. Like the Urvogel said, he would have to abide. Abide and pray for the stars to fall and cleanse the Earth of all of its troubles.