First Global I've done in awhile and I wrote it all in one long stretch last night. Let me know what you think. Not psyched about the name, but my first choice, SATURN, wouldn't have made sense in context of mythology.
(PS, long character is long)
A.P.O.L.L.O
Global
Solo-heroes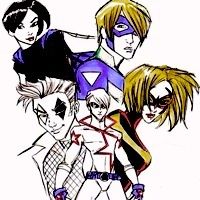 Strength: standard
Mind: standard
Body: standard
Agility: superior
Biography
:
The air was still sticky, but did not hold the crushing heat it held during the day. But even with the sun now set for over six hours, what remains still compresses Zach's chest like a vice as sweat clings around his forehead and spine. Becki paces behind the loading zone door without notice of any atmospheric irregularities. Having no body temp must come in handy sometime, Zach thought.
Becki looks to the armored van idling behind her, then back towards the door to the KPD precinct in front of her.
"I don't like this," She says, "its taking to long. They should have come out already."
Zach wipes the sweat from his brow.
"You think something went wrong?"
"I think I aught to be at home. Asleep. In my bed."
"Yeah, I was thinking the same thing," Zach says despite meaning something entirely else, "Two Sentinels for special escort duty, a dead of night transfer to move a prisoner with no name. Doesn't look great."
"Please Zach, its us. We'll kick ass like we always do."
A long series of clicks comes from the door's locks, and it finally swings outward. Two police officers drudge out a young man in chains wearing what appears to be some sort of Fourth of July themed jumpsuit. A kato mask covers his upper face. Becki eyes the prisoner.
"Who's he?"
"Don't know," says the older of the two officers. The only hair on his weathered face came from the soupcatcher plastered beneath his nose; he looks back to his prisoner then to girl,
"But I was told I was to transfer him to a waiting plane at Khazan International. Once the Sentinel escorts had arrived, of course. You're them?"
"Yeah," Zach says. The man nods.
"Clearance code?"
"Gold star," Zach replies.
The officer nods again; his partner opens the back of the van while he pushes the young man into the back. He is met with no complaints. Becki follows behind them, and soon feels forced to bring her hand over her eyes.
Blaringly lights rush from the vehicle, and bring her out of the dull malaise she had been feeling earlier. The glare comes not just in the ceiling, but from the floor as well. The sides of the van were scattered with LCD lights that overfilled the compartment with pale white. The prisoner looks towards the lights as the officers attach his restraints; he lets out a thin smirk.
"Clever."
Becki's eyes begin to adjust as she sits across from him. The officers finish their duty and leave the back of the van. The veteran who had been speaking earlier grabs the twin back doors and turns to Becki.
"The ride should be forty five minutes. No traffic at 2 am I guess," he laughs, nobody else does, "anyway, I'll let you out when we arrive. These doors lock from the inside and the out, so you're stuck in here with him until I come back to get you."
Becki lays her baseball bat against the wall of the van. The man across from her slides his head sideways and glances over the weapon while she speaks to the cop.
"Why would you need doors that lock both way?"
"No idea," he says, "The Sentinels are running point on this one, I just drive the van. I think he might have powers."
She looks towards the man to try and tell. His head slyly shifts back towards her. He shrugs at the suggestion.
"Uh, huh. Is that what those lights are for?"
"Look, like I told you,"
"Yeah, yeah. You drive the van."
He nods. The veteran officer slips out of the back and slams the door hard.
The prisoner leans back against the wall, loose and relaxed. The pair stare off in the blindingly light, not saying a word. Soon the floor shakes along with the grumble of an engine. The van creeps away and they feel the momentum from their compartment. Becki leans over her knees, coming close to the man toying with the shackles across his wrist.
"So," Becki says, "What did you do?"
He shakes his head slightly, and continues to rub the cold metal. She persists.
"Come on bro, don't leave a girl hangin'. I get woken up in the dead of night to transport your ass, and they don't even tell me who you are or what you did. Come on, what are you?... Oh wait, let me guess, you're the acrobat from the Circus of Crime."
The man stares at the floor. He cracks his knuckles. Becki sighs.
"Fine, be like that. But its gonna be a long ride, and I like to sing show-tunes to fill the quiet."
He peels his vision off the floor and lets out a sliver of a smile.
"Persistent; I'll give you that. The name is Flagstaff. And what I do, is what you do, I simply do it better. And it doesn't matter how I got caught, because I won't be staying long."
On the outside, the van passes over the Lowtown bridge. Crows perched on the dull streetlamps above the road scatter as the vehicle passes beneath. The crows shoot away as a flock, diving and dipping around the urban labyrinth. They swoop past the van, and over countless tenement buildings till curving down into an alley. A latino man waits in the alley, flipping a die like coin. The crows descend and mob into a thick black mass of feathers and muscle. The blackness merges and molds into one. Sharp hints of blue and fleshy pink begin to emerge. A young man in a blue costume stands out of the remnants of the flock; he turns to the man flipping the die.
"They're coming."
Personality:
The other man's lips part in smile half mischief and half malevolence. Two diamonds are tattooed over his face; one white, one black, the same color as the dice he now maneuvers through his fingers. In his free hand he pulls a hand-held radio from his back pocket.
"Well, well, looks like your armano is on his way. Just like I said he would, I should mention. Hope you're ready."
"I guess," says a strong female voice on the other end, "I've never used one of these things before. Still saying I aught to use the C-4 arrow."
"Not on your life!" Wails a second and somewhat higher pitched female voice, "Jimmy's in the van."
The first woman sighs over the radio chatter.
"It's an armored van. Armored, Kate. I think he'll be fine."
"But what if you hit the gas tank?"
The man laughs again, and speaks into the radio.
"Then we can change his name to American Barbecue."
He turns to the man in blue who does not laugh. The radio returns to life with the voice of the first woman.
"Bastard, you know I have a clean line of sight on you right? So do me a favor, shut up, or I can change your name to Cojones Frijoles."
"Cojones Frijoles?" he says, "That doesn't even make sense, chica. Don't get so flustered. You know what I think; I think you know you love me. It's true. I think this whole, Yo no quiero a hombres thing is all in your head, and if you give me a chance, then I can show you what you're missing out on, eh—"
An arrow stabs out of the night and into the wall just in front of him at waist height. The brick wall crumbles like dust where it was penetrated by the black tip.
"Seriously Bastard," she says, "Both of them. One shot. Are we clear?"
"Eh, whatever you say goes senorita."
The armored van rolls by his alleyway. He shoves the radio into his back-pocket.
------
From the back of the van, Becki can feel the vehicle lurch to a stop. She stares at the man across her and lays her bat across her lap.
"You do what I do, but better? How's that flag-boy?"
He sighs, annoyed.
"Because, no matter how much they would like to be, The Sentinels cannot be the Jupiter League. They're too weak, too decentralized, too bureaucratic, too restrained."
"Yeah," Becki says, "all those rules about controlling collateral damage and not killing U.S. Senators, oh sorry, attempting to kill US senators, really makes us too weak. I guess that's why the Sentinels are all gone and the Jupiter League is still a thing. Oh wait, its not, and even when it was, you weren't in it."
The van slowly accelerates ahead, they both slide gently with the momentum. Flagstaff stares at the ceiling as he talks.
"The Sentinels still exist specifically because they are weak. Jupiter was removed because bad guys everywhere couldn't take it anymore. But you? You don't stop evil, you're tolerated by it. You're a joke…. But if thinking you've stepping into the shoes of Gods makes you feel like you're important, don't let me stop you. Believe whatever you want."
"Oh I believe the Sents have problems, and I aim to fix them some time," Becki says, "But even if I believed your cynical bs, what I really don't believe is your ludicrous claim to be a Jupiter member. Unless you changed to 'Flagstaff' from 'Eternal Youth Lad' you would have been nine when they broke up."
"Believe, whatever pleases you," Flagstaff says. He rests his head against the side of the van and tries to close his eyes against the irritation of the light. "Anyway I merely said that the Sentinels weren't as good as the League was. I never actually claimed to be in it one way or another."
Becki crosses her legs and lies the bat across her shoulders.
"Well, believe whatever pleases you," she says.
They drive on with only the buzz of the lights still filling their ears. A minute passes. The van pulls to another stop. Flagstaff's head rolls forward, his eyes open.
"But just to be clear, I was twelve when we disbanded."
Becki stares forward at the man as his eyes finally begin to burn with some kind of emotion. A thunk hits the front of the car hard; the lcd lights die en masse.
"Shit,"
Creation: Superior plus ranged and area effect
Zach leans against his head against his fist. His eyes begin to droop under the hypnosis of the lights flashing overhead. The officer in the seat next to him slowly nods his head to the crooning country star on the radio that was supposed to be used for other purposes. They roll to a stoplight.
A speck flies out of the night, a speeding blur headed towards the van. It hits the engine with thunk, soon followed by a high pitched pop. The engine dies, and the radio falls silent. Zach rises up in his seat.
"What's happening?"
"I don't know, the engine just died," the officer turns the key but there isn't even a stir. Zach begins to scan the street, but sees nothing in front of the vehicle but emptiness.
"These windows are bullet-proof, right?"
"Oh definitely," the officer replies, "We should be fine if I can just."
From the fire-escape across the street, the blonde woman prepares another arrow, this one with a thin black canister loaded to it's a shaft. She draws back to its full length. Her fingers release, the arrow plunges into the van, shattering a hole into the windshield and stabbing the middle seat between Zach and the driver. Zach glances at the projectile.
"Bullet-proof, of course."
The canister on the arrow opens and gas hisses out in a dense mist. The compartment fills in a breath, and a breath is all it needs. The woman on the fire-escape lowers her black bow and pulls out her radio.
"All right I got them with the EMP and the gas. Move in."
Shadowstep: Teleportation Superior:
She pounces from the fire escape and lands smoothly on the ground. She stalks closer towards the van, her bow drawn at all times. From an alley off the side a young woman in a black tee sneaks out from behind a dumpster. The man with the dice saunters in from behind the van without any notion of stealth.
The woman in black is shorter than the blonde with the bow, and lacks the same athletic build. She somewhat playfully, and somewhat piss-offedly slaps at the archer's arm.
"You didn't say you were going to be using gas."
"Kate, it was sleeping gas. And Jimmy's not even in that part of the van, he's fine. I'm not going to go through all the bother of staging a armed rescue attempt just to end up killing my own brother."
"Well, not intentionally," the dice man says.
The blonde carefully leans behind the other girl's back and give him a gesture. The girl in black ignores them both and steps towards the van. A streetlight glows overhead, casting the street beside the vehicle in dark shadow. She steps onto the darkness and sinks down into a rippling liquid shadow. Her body submerges beneath the pavement as if it never was. The other two stare at the black spot indifferently. Silent seconds pass.
The girl's head re-emerges from pavement and her body pulls out from the black with a body in tow. The pair floats out of the murk till safe on the other side, and the pavement returns to its intense solidity. The woman rises off the ground and the body beneath her rises as well. Now returned to his feet, Flagstaff begins to toy with the handcuffs that still remain on his wrists.
"Took you all long enough."
The blonde glares back at him.
"Really, because I'm sure Kate can put you back in there if you have a problem with the way we just saved your ass."
The dice-man laughs and leans against the side of the van.
"Now there's a plan of yours I like."
The woman in black places herself between Flagstaff and archer.
"Look guys, maybe not the time for this. There's still somebody in there, and she seemed somewhat pissed about letting him go. Lets get out before she does."
"She isn't going anywhere," Flagstaff replies, "That door locks from both ends and she's armed with a wooden baseball bat. Another Sentinel screw-up."
The back doors fly off the van, the hinges coming apart like paper-mache. Becki leaps from the back, fury in her eyes. The Blonde smirks and looks up at Flagstaff.
"What exactly were you saying? I was too busy listening to you being wrong. Again."
"Five on one," he says, "its hardly a problem."
The front of the van ruptures outward with a fire-less explosion as Zach takes full form, crushing his way out of the driver's compartment. His fur glistens in the moonlight and his muscled body looms over the squad outside. He lowers the van's driver from his massive hooves and onto the ground. He then turns directly to Flagstaff. His target turns sour and the archer beside him smirks.
"Let's see five of us, and…one…two… oh I think he probably counts as at least three."
"You know, I have had just about enough of passive aggressive bitches tonight, thank you very much Barbara,"
Zach's trunk parts open and spews a blizzard towards the squad; they all dive for cover. Becki charges the archer, Zach the other three.
Shortbow: Marksmanship standard:
Becki swings the bat in wide arc. The archer dodges and springs back, drawing an arrow against the bow. Its tip is blunted to appear like a black boxing glove. The shot releases and the solid metal catches Becki across the jaw like a freight train. She just keeps swinging.
"So what are you, flag-boy's boyfriend? Arrowhead, the Patriotess, Lady Flagstaff?"
"Ew, don't make me vomit," She calls back as she jumps over a parked car, "Not that it matters to you any, but the name's Shortbow."
She launches another blunt shot towards her target's midsection, which bounces off the baseball bat as it comes crashing down into the car.
"Shortbow?" she says, "You're like 5' 6'. That's not short, that's average."
"Well, its complicated,"
Shortbow draws back two arrows and quickly fires. The arrows carry a long wire at their tails and as they fly over Becki's side the wire catches around her. Their momentum forces the arrows to spin the wire like spider-silk around her torso till their heads loop all the way around and inter-lock. Becki struggles beneath the trap as the other speaks,
"Look, there was a Longbow, and she was my; never mind. I shouldn't bother telling you this anyway, I don't communicate with criminals."
"I'm not the criminal!" Becki yells, "You are!"
"What? Oh please, I'm not the one who has a skull painted onto my black catsuit."
"And I'm not the one who just blew up a police van!"
Becki's arms burst outward, breaking the wire like spaghetti. She charges with her bat and Longbow loads another arrow, this one burning at its tip.
Lucky Bastard: Tactician Superior: (But in name only)
Meanwhile, Zach was having some trouble with his end. The one in the jumpsuit had completely disappeared, and the girl in black was giving him a headache. Every place she popped up he would smash, but she'd just whack-a-mole out of another shadow behind him making rude spitting sounds. This frustration seemed to play right into his opponent's hands.
"Eh, Senior Sasquatch."
Zach turns and sees the man from before. He was still flipping dice, and had that same grin glued to his mouth.
"Mr. Mammoth," Zach corrects.
"Whatever," the man says, finally catching the dice and holding them still in his hand. He extends the other as if he were a friend,
"Look don't take this the wrong way, but you and your little amiga better get out before things get out of hand and I need to get rough. No hard feelings, ok?"
Zach steps towards the man, his stomach at roughly the height of the man's head."
"Before you get rough?"
"Yes, jefe. Did I stutter?"
He begins to deftly pass the die between his fingers, feeling every face against his skin. He keeps smiling back at the massive beast in front of him
"You see, you may not know, but I'm Lucky Bastard. I'm kind of a big deal. I'm the most powerful soldado out here. You know what my power is?"
Zach cracks his neck.
"Annoying people to death?"
"No," yells Shortbow across the street as she fires a rogue fire-arrow, "but it's a good guess."
Bastard sighs, "ignore her. My power is beyond her comprehension anyway."
"You know what, save me some time. Tell me what it is; then I'll freeze your ass."
"What is it? I don't know yet jefe, but its probably going to be bad for you"
He drops the dice from his hand and watches them fall. They rattle across the gravel. Then they settle, reading a double six. Lucky Bastard smiles.
"Boxcars. Not good for you at all Jefe."
"What does that even—"
Another lone fire arrow zooms in a long miss and slams through the police van's side. The gas tank ignition sends three tons of metal catapulting through the air. Zach turns just as it takes him out. The van pummels Zach into a building wall, but misses Bastard by inches. He laughs that same giddy laugh. The dice rewind their throw and levitate back into his hand.
"Not your lucky day jefe… heh, heh. I love saying that."
Boy Blue: Beast Master Superior
The man who was the flock of crows still waits in the alley, petting a pigeon resting in his hands. It coos and sits serenely still. A radio on top of a dumpster crackles. Flagstaff's voice calls out.
"Blue, the situation has changed; we have two targets, one on Shortbow, and one on Bastard, Shadow, and myself. We need you out here now."
The man sighs; he opens the palm of his hand and the pigeon flutters away. He sits on the filth strewn ground and folds his legs. He breathes out, his eyes close, and his head drops.
His skin begins to twist and bulge in different realms of his body. Small pinpricks push outwards. Tiny claws paw at his flesh, yearning for escape. His skin breaks like a balloon, releasing a swarm of dark, beady-eyed vermin in his place.
A block away, Becki and Shortbow both see Shortbow's missed shot sail long and collide with the van. It all occurs in slow motion for them; Becki turns away, and tackles her opponent to the street.
The explosion could have knocked them both down anyway. The shock rattles the
pavement and the fireball's heat washes over their bodies. But its over soon.
Shortbow looks up to see Becki leaning over her. Pieces of debris are harmlessly lodged in her back, but would have slashed Shortbow to ribbons if they had switched places.
"Uh, thanks. Or whatever."
"No worries. It's what I do. But if you want to thank me?" Becki plants her knee into shortbow's torso, pinning her to the ground. "Then do me a favor and stay down, because I'm getting real sick of the arrows."
Soon after their ears stop humming from the buzz of the explosion, a chorus of a screeching, chirping, clawing mass emerges around them. Shortbow's eyes go wide.
"Oh you have got to be kidding me."
"What? Who's kidding you about what?"
"I've told him a million, friggin times. Anything but this. Anything but rats."
"Rats?"
The screeching horde runs from out of the side-streets and descends on Becki. They pounce and claw as she attempts to throw them off. The swarm continues to stampede towards her, enveloping her in tiny bodies. Shortbow rolls away, disgust plastered to her face.
Flagstaff: Weapons Master Superior:
Flagstaff waits hidden in a back alley of Lowtown. The fight rages on before him, but his hands are tied, almost literally.
Shadowstep emerges from a dark patch beside him. She passes him his old belt; he stares at her for a second.
"Oh," she says, "sorry. Handcuffs. Stupid me."
She kneels down and begins looping the belt herself.
"Where's Blue?" he asks.
"Oh, Shortbow thought he aught to stick behind after we left. She figured that if he watched who came to investigate we could know more about the people who went after you,"
"We don't have time for that."
He snatches the radio from her pocket. She finishes her job and clicks the belt together as he brings the radio to his mouth.
"Blue, the situation has changed; we have two targets, one on Shortbow, and one on Bastard, Shadow, and myself. We need you out here now."
Shadowstep looks back to the battle in the streets.
"I think we aught to bail now Jimmy. Bastard might be able to buy me some time, but if he rolls snake-eyes we could all end up in jail. Or worse, back to Sierra Lake. I don't like Sierra Lake, Jimmy. I still have nightmares of blinding light. I have no intention of going back to those people. There's no reason to push this. Even if Bastard can stall, I don't see us winning this—"
A blast lights up the dark side alley. She recoils while Flagstaff calmly observes the fireball that sends the van soaring. As he watches, she quickly regains composure.
"Shit. Boxcars," she says, "Hate to be the elephant guy. I hope everyone's ok."
"Give me the staff."
Shadowstep looks back to Flagstaff begrudgingly. He does not seem to alter his intent based on her look of dismay. She pulls out a long cylindrical baton, its heft drawing down her palm. She plants it directly into his bound hands.
"Jimmy, this is a bad idea. We just got our exit handed to us, let's go."
He brings his right hand around the flattened palm of his left. She places her hand on his shoulder.
"This isn't worth fighting. I don't know how you even plan to fight with those things. I suggest I portal us out."
His right hand wrenches and a sharp crack echoes out. His left hand is now unnaturally collapsed; he tugs the handcuff over it brusquely then walks away. She just looks down and sighs.
"Or you could break your hand. No, that's a completely reasonable response."
Flagstaff enters the street, the baton held closely in his right hand. The van that has been shot into the wall begins to stir. Zach shoves the vehicle off of him and stumbles to the ground. He wanders a few feet forward till collapsing. His body morphs slowly till back in human form. Flagstaff then turns towards Zach's partner, who currently stood in the middle of the road tossing rats off her body.
The rats all perk their ears at his approach and cease their assault. In their retreat away from Becki they swarm together and form a more human shape. Boy Blue emerges from the pile of dissolving rodents with some blood trickling down his lip. Apparently this girl was more than just an annoyance. Flagstaff holds the baton away from his body and tilts it sideways. Becki sees him approaching and clutches at her baseball bat. Flagstaff stands perfectly still.
"Let me show you the real difference between us."
He presses a button on the baton's shiny underside. It shot out from both ends, extending to six feet in length; a bronze eagle lay perched ornamentally on its tip. His opponent, still deeply displeased about her recent rat attack, raises her bat over her head like a battle ax and charges. The other teammates watch from the sides.
Becki swings; and meets only empty air as he ducks past her, spinning, to send the tip of his staff between her legs. She topples forward and slams against the ground. Becki pushes herself up and smashes the earth with her fist. She stands, and aims for swifter bashes this time.
Flagstaff dances around her. Every swing of the bat makes a solid clink against the staff blocking its path. She drops her guard on the left and the staff stings that side; she does the same on her right and is educated again. Flagstaff finally seems to be smilingly widely. She swings hard and goes far past him. He thrusts the staff down and uses it to base himself as he kicks her with both feet.
Becki again topples to the ground, only her pride injured, but that was very much crippled. She raises her bat once more; Flagstaff begins to spin his weapon above his head.
A trio of arrows shoots out from the dark and pins the zombie to the pavement with a black net. Flagstaff turns to Shortbow.
"I can handle this."
"Not why I did it. I'm sure you can handle her. But you can't handle the damn Bravo Sentinels, and I have no intention of trying because you've got compensation problem."
They exchange glares. He breathes out a deep grunt. The baton collapses again. His left hand enters a utility bag on his belt and emerges with loads of tiny metal balls. He hurls the balls towards Becki as she gnaws her way from the net.
The balls flash briefly then release a deep grey smoke which overwhelms the street. With a final rip Becki tears her way out of the net, then walks into the fog. A voice teeming with arrogance calls out.
"You wanted a name didn't you? Well I suppose a consolation prize is the least I can do. We are A.P.O.L.LO and we are here to bring things back to the way they aught to be. You'll be seeing a lot of us very soon."
The smoke melts to nothing and the they are gone, leaving Becki with a charred armored police van, its sleeping driver, her unconscious partner, and a street filled with shadows.