Ok, quick recap, everyone whose asked to join via PM or on here has been accepted. Still waiting to see if a few of the old players who signed up are still interested before I let others. Feel free to ask. I have had a word with everyone's characters and your all know where your at
@DJ: Please stop trolling with useless posts, however I do agree suggestions for start date should be in everyone's mind. I'd like a majority ruling once I ask. As another tease to show I aint giving up on it, some more dossiers and possibles for who you'll be running into during Orientation;
Code name: Scorcher: Alpha
Real name: unknown
Affiliation: Psychopath
Aearance/Costume: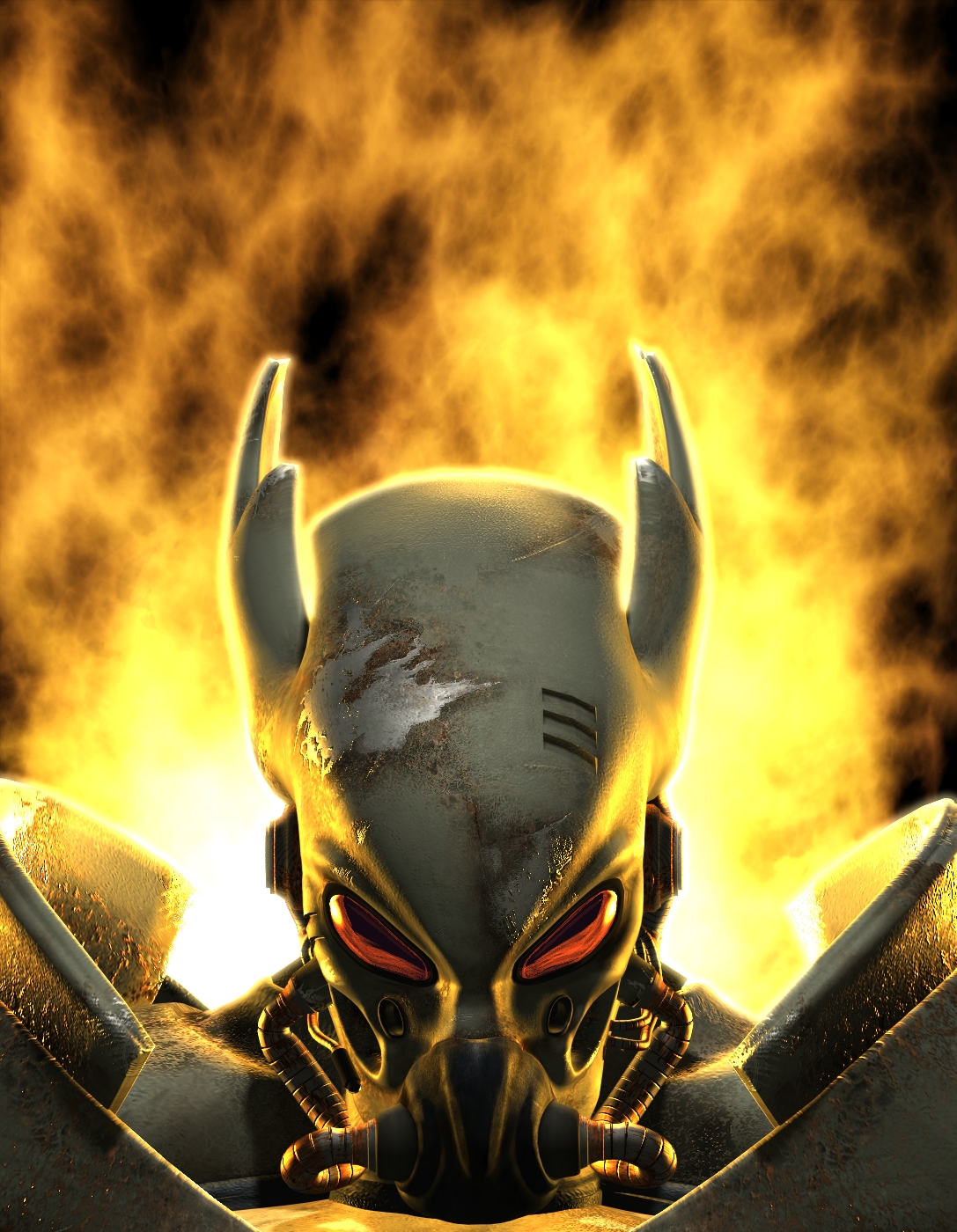 Origin: Not much is known of Scorcher Alpha, few can still place his name and those individuals refuse to, except that he was a particularly powerful pyrokinetic who eventually joined up with the Firebugs. They set him up with experimental armor to strengthen his abilities tenfold, which has been successfully mass produced and distributed through ranks. He wordlessly follows orders, to the point where someone might assume that he was some sort of robot. However rare sightings and unmaskings do show a human is inside that evil shell.
Primary Powers:
*Pyrokinesis(level 4)
Equipment:
*Powered armor; enhances skills tenfold well into superhuman. Also a fuel source and backup fire-based weaponry if main power exhausts. Rebreather and other lifesupport systems to stop self from succumbing to any accidental fire hazards. More than capable of stopping most small-arms fire.
Associates:
The Firebugs
; Arsonists and anarchists who truly believe that the only way for the world to thrive is to burn eveything established to the ground. With them at the head of the new world, they also believe they can snuff out any resistance. Howver most believe the ranks of this terroist group are insane and out for personal enjoyment. They will do anything to succed in their objectives. Anything.
Code Name: Tundra Wolf
Alter Ego: Adriana Teresa 'Terry' Dominguez
Affiliation: Anti-Hero
Appearance:
Human form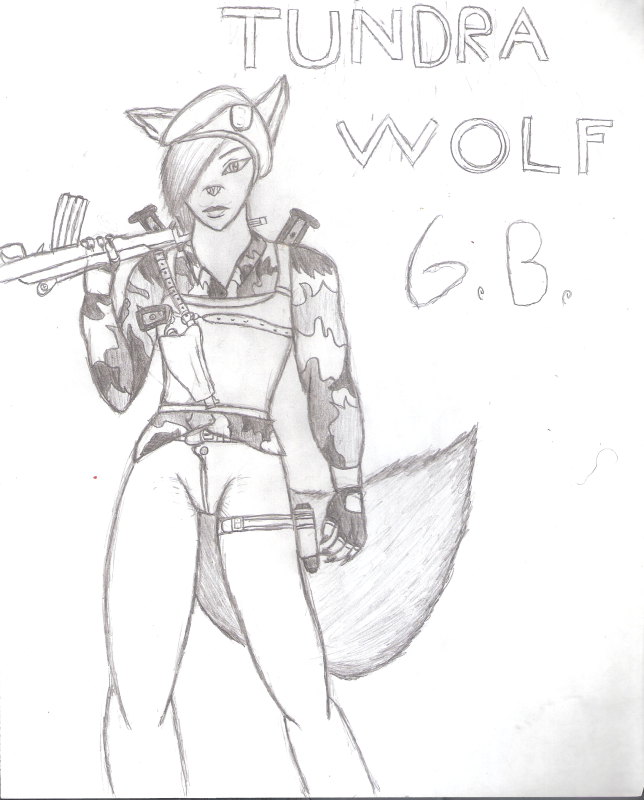 Mutated Form
Costume:
paramilitary uniform/gear
, beret, hiker's backpack
Origin: Originally a young rebel born in Mexico City, looking to help bring down the Drug Cartel. She did this for three years, before a mission gone bad ended with her captured and put into a Human Trafficking ring where she was eventually taken by a 'mysterious individual' and put through genetics experiments. What started as an attempt to give Teresa cryokinesis through dangerously experimental means led to her first being spliced with wolf genes to be hardier and able to survive the fusion with the enegries to allow for cryo-process and an adrenaline boost system to survive the splicing with wolf DNA. The experience was excrutiatingly painful, however when she woke up after all was said and done, she found herself in the heart of a GEAR tech lab. She had been saved before the dr. could complete the training with her and use her for his own ends. Her original goal long gone after the years, she was suggested as to head to Reach City to hone her powers that were forced upon her to use for the greater good. She agreed, though she will do so on her terms.
Primary Powers:
*Morphing into
mutated
and
full werewolf
*Cryokinesis(level 2)
Secondary Powers:
*Enhanced/Wolf senses
*Adrenaline boost(level 2)
*Trained soldier
*Accelerated healing(level 1)
Equipment:
Kevlar body armor, backpack full of supplies
Weapons:
*
Modified Ruger Mini-14
*
Semmerling .45
backup pistol
"pequeña muerte"
*
Ruger Super-RedHawk .454 "Handcannon"
*Dual machete's:
forward curved
and
parang
.
*
Switchblade/boot knife
*
Glock 21
Associates: Former rebel groups, notably Los Trece pre-transformation. Currently working off deal with GEAR tech
------------------------------------------
Code name: Irish Fox
Alter Ego: Connor J. Remington
Affiliation: Mysterious Vigilante
Appearance:
Out of Costume
in costume
Origin: A man who walks between two worlds for reasons only he knows is Connor Remington. The dual lives of Connor are deliberately seperate, lest anyon would believe these two were the same man; C. Jackson Remington is your average over-egoed action star actor who seems to flux between good and obnoxious press. The Irish Fox is a calculating and vicious giver of vengance who is not afraid to do what he thinks is right. In truth both of these sides are only parts of who the real Connor Remington is; an odd mix of both personas. Noone is quite sure of the reason why he risks his life, but those that know the real him know several things; he really does have an ego, he is very good at his job, and he is overall one of the best men you could ask for at your side in a time of need.
Primary Powers:
*
Lycanthropy
Secondary Powers:
*Highly intelligent
*World Class Martial Artist
*Expert actor
*Extremely skilled in various oddjobs and skills(thief, escape artist, etc)
Weapons:
*
Karambit
*
Butterfly knife
*
Cane Sword
*various other knives depending on situation
*Carious firearms depending on situation
Equipment:
*various body armors for given situations
*Hi tech gasmask
-----------------------------------------
Code name: Mr. Mammoth
Alter Ego: Classified
Affiliation: Goldenboy
Appearance:
Origin: Not much is publically known about Mr. Mammoth's, however he has been on the job for the last decade and for the last several years, he has been one of the more heroic individuals to grace Reach City, as well as the rest of the world. As one of the big players in the super-hero game he commands respect from both sides in the walls of Reach City. He is also great with the kids, and is one of the better attiuded heroes around.
Primary Powers:
*Cryokinesis(Level 5)
Secondary Powers:
*Superhuman Strength/Durability(level 3)
*Telepathy
----------------------------------------
Code name: Scarab Queen
Alter Ego: Formerly, Jillian Schmiedt
Affiliation: Psychopath
Appearance/Costume:
Origin: Once an archeologist well on her way to making the discovery of the century, she ran into the mystical artifact known as the staff of the Scarab Queen, one out of five relics that supposedly granted an evil tyrant power. Her mind fragmented, she believed she was this scarab queen and infiltrated Reach City in hopes of finding the remaining artifacts.
Primary Powers:
*summoning(Scarabs) (level 2)
*Mystical energy generation(level 2)
Secondary Powers:
*Exoskeleton
Equipment: The Staff of the Scarab Queen
-----------------------------------------
Code Name: Roach
Alter Ego: Dirk Charles V
Affiliation: Affiably Evil
Appearance/Costume:
Origin: Descendant of a legendary pirate who supposedly could not die, Dirk was always fascinated by the tales of old. Despite this, he very much lived in the now, working his best to fit into the current world and making his living as an actor, however one day he found that he shared his ancestor's ability to survive almost anything after his power was accidentially awakened. Already having lived a good life, he figured taking up pirate garb and living life to the fullest was the best thing he could do. It was the role of a lifetime.
Primary Powers:
*Reactive Adaption(level 3)
Secondary Powers:
*Near genius intellect
*Skilled in most forms of combat
Weapons:
*
Wheellock pistols modified to be magazine fed(x2, .45 acp)
*
Elephant rifle
*double-edged short sword(resembling a roman Gladius)
*
.357 magnum
Equipment;
*Pirate garb and supplies
*Disguise kit