This is a draft biography for my character in Devil May Cry World RP.
Name: Hwang No Seok
Class: Human
Age: 25
Appearance: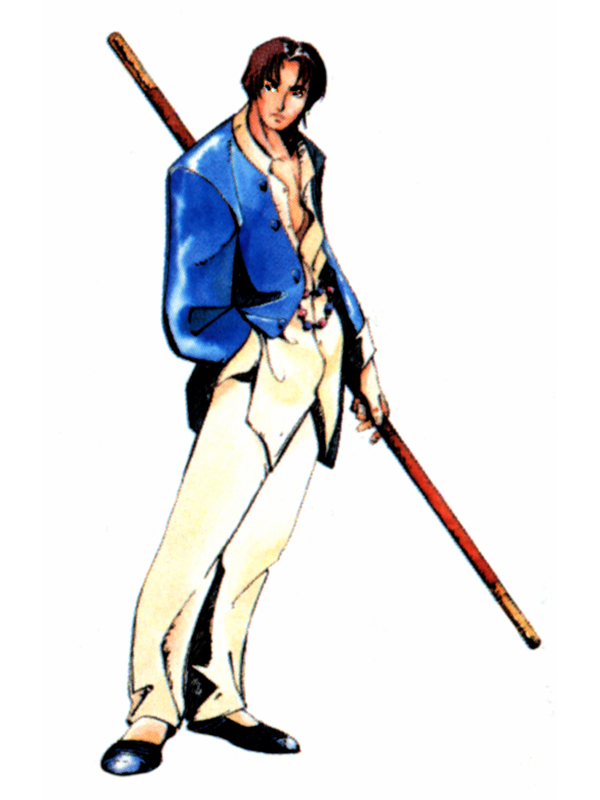 Bio: Hwang No Seok was born in North Korea, the half of the country which it was ruled by dictatorship. He spent the first two years on the move with his parents who were trying to get out at the time. By the end of that journey, they were cornered by the small amount of pursuers. He thought it was the end, but his father thought otherwise.
He remembered his father pulled out at first glance, an ordinary stick. His thoughts had changed when he seen the stick transformed into a bo staff; his father plunged his staff into the ground and multiple rods erupted below his pursuers and hit them with extreme force. All of them were caught off-guard and his father took advantage as he fought them all like an extraordinary warrior that only existed in mythical tales. He had beaten them all despite the odds were against them and it had allowed them to escape with their lives.
Hwang and his family lived a humble and honest life since they arrived in South Korea. Hwang wanted his father to show the tricks that he displayed when he fought their pursuers, but his father thinks he wasn't ready yet; Hwang was persistent in his efforts and it paid off by the time he was 5 years old. His father had trained him in various arts including Tae Kwon Do, Bo Staff Fighting and Hapkido in preparation for his son to carry on a secret bloodline legacy. The training was intense for Hwang and it lasted from his childhood to his adolescence.
One day, his father called Hwang after one last training session between them. His father pulled out the very stick that had Hwang's curiosity for a long time; his father told him about the weapon and the family's bloodline legacy which existed within Hwang, his father and his siblings. Hwang was shocked of the news that his family had the bloodline of the mythical warriors that helped a benevolent and powerful demon named Sparda free the humans from the demons and preserved peace throughout time. His father gave him one of the heirloom weapons that he and others wielded before him; A bo staff named The Storm Phoenix.
From that moment, his father had acknowledged Hwang as a man. Hwang departed from his home and joined the police academy wanting to be a detective and help the world in any way he can. It took him two years to graduate from the police academy where he learned how to shoot a gun, the ropes on being a detective and other skills that was required. Hwang's four years on the force had hardened him in the ways of the world, but he still had his humbleness and hard work ethic which won over many people and got him a girlfriend; their relationship lasted for three years and still going strong.
Recently, more demons started to appear and Hwang was forced to fight with everything he had to survive and keep people safe; until The Rain Corporation send soldiers to help the police force fight off the demons. Hwang was initially thought them as allies who were willing to help them, but one of his colleagues was not easily convinced; a childhood friend named Hyun Seoul. Hwang thought he was being paranoid, but his thoughts had changed when he had seen Hyun's severely scarred body and he was dying. Hyun was secretly investigating The Rain Corporation and was about to find out what it truly was, but he was caught. Despite putting up a fierce resistance, it was all in vain as his would-be killer had put him down with ease and left severe scars and punctures. Hyun in his dying breath warned Hwang about The Rain Corporation's ulterior motives and to find his notes in his home.
Hwang noticed the scars that was inflicted on Hyun were not ordinary scars not made by a human, but a human with demonic intent and traits. Hwang found the notes in Hyun's home; it had told him everything about The Rain Corporation except the recent information that Hyun died for. Hwang wants to pursue revenge, but in order to do that he had to quit the police force and say goodbye to his girlfriend as he promised her to return home when this is over.
Hwang's journey starts at the organization which Hyun noted to be the only thing that can stand up to it's power, Devil May Cry Inc.......
Weapons:
1.) The Storm Phoenix: One of the heirloom weapons of the Seok family, a bo staff with mythical powers. It grants the wielder incredible strength to combat the demons and preserve peace. It leaves a mystic flame that slowly burns the demons and anyone with evil in the hearts. It can allow the wielder to increase or decrease the length of the staff on any and both sides of the staff, ideal uses for turning fatal falls into safe falls, latching onto any surface and combat. It has other uses, but it takes time to fully master it and unlock it's hidden powers. It is made with a rare and unbreakable wood; the process of making this is buried with time. Only those who have good within their souls can wield the weapon.
2.) Two Modified Mark XIX Desert Eagles: His modified two guns from his time as a detective. When more demons appeared, Hwang saved lot of lives including a mysterious gunsmith. The gunsmith showed his thanks by modifying his desert eagles into demon-killing weapons. It fires custom .41 Magnum rounds with an unknown substance inside each bullet. This modification allows the wielder to.....
3.) Metal Gauntlets 1.0:
It's hardest part of the project is to add the finishing touches.