The Set up!
http://www.electricf.......st&p=220467
That nasty stench filling up her nostrils is wet cat. Nasty, funky, raunchy wet cat...and it's quite near. As Becki works her way down the vent a little ways she hears the opening slam shut followed by a faint crackling sound. As if the entrance was being welded shut...and the stench is getting stronger.
That smell was getting worse. Like wet fur mixed with motor oil. Becki nudges her way along the vent as her other senses went haywire due to the three way split. Why is Mitch looking at the sink? Its just a sink. Get out of the damn kitchen, no scoobie snacks for you... speaking of snacks, why does Zach get cookies? I'm sinking around in a vent and he gets COOKIES? Damn this was a bad idea. Then the faint crackling comes behind her at her entrance. The scurry of something else in the vents pings through the Works and into her ears.
....awwwwww f*ckberries.
The Rules!
Remember when Knox forebodingly told the Scooby Doo gang that they could die? Yeah, well this is one of those times. Deo/Beckie...you need to win this. This is a fight of life and death proportions. This cat must achieve its mission (whatever that may be) and it is not going to let a little Zombie Girl stop it...or is it? Regardless, you have a certain goal to obtain in this fight. If this cat falls beneath a certain hit point before you do, you win a KO and you may hold the kitty hostage for questioning. Also, if both your hit points fall below another mystery level that is lower than the previously discussed mystery level...well...bad stuff will happen. But to who?
Good luck Deo.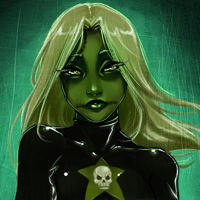 vs.
Well, what are you just sitting there for? FIGHT!