Those of you with sharper senses of time notice that the cargo ship you're stowed away on takes a bit longer to reach Crossroads 1 than anticipated. Not a significant amount of time, maybe 10 or 15 minutes, but those few minutes could mean the difference between comparatively light security and an entire legion of pets and girls.
Fortunately it appears to be the former, as Crossroads 1 seems to only have the "normal" amount of heightened security expected after a major attack.
There are no signs of wanted posters or the like, which are usually easy to notice in the wake of a major escape such as yours. It appears the word has not been released. Yet.
The cargo bay door is open. The handful of people that have passed by the opening have not appeared to notice you. It appears that a temporary cloaking hex has been placed on the entrance. It likely won't last.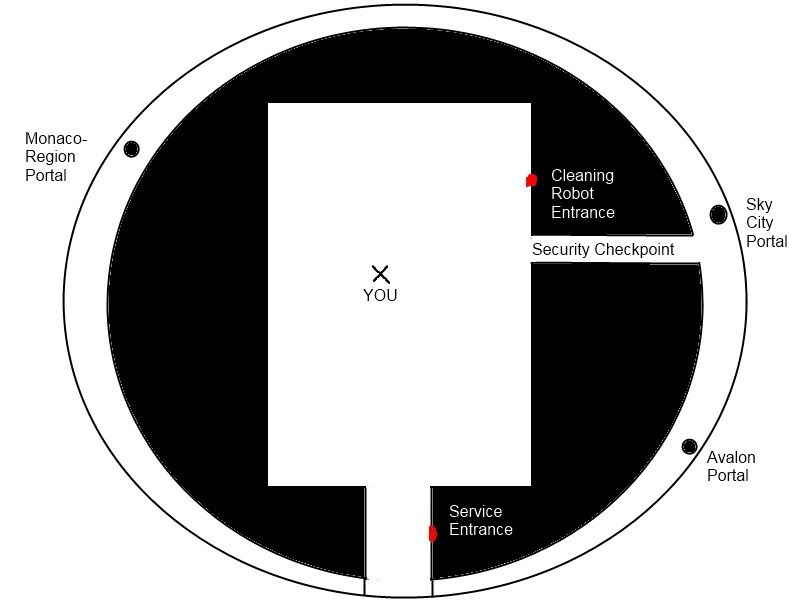 Crossroads 1 is a disc free-floating above the clouds. The disk itself is fairly large, with a half-mile diameter. You are currently parked in the center loading area. The gates themselves rest on the edges of the disc. While all gates are equally distant from the center, and hence from your current location, there is only one checkpoint leading from the loading area to the causeway circling the disc.
No walls extend around the disc. An invisible force field keeps things in and out that shouldn't be leaving or going. Vehicles that have clearance are granted temporary immunity to the field, allowing them to touch down in the landing/loading area. Therefore, while it looks like you could fall over the edge, you have nothing to worry about.
Will you be able to just waltz right through security? Is there another way to the portals? What to do?
Like before, secret information will be sent out to a few people. What you do with this info is up to you.

ALSO, you may ask me ONE question about your surroundings. Consider this a "Search" roll of some sort. You MUST send this question through PM. And again, what you do with this info is up to you. You must ask this question BEFORE y'all determine your course of action. Once you're on the move, there won't be time to do careful observation. For the purpose of this question you have a reasonable view of the landing/loading area and the security area.