The theme of my game
The year is 2248, on August 5 the entire world signed a treaty forming the alliance known as the UEN(United Earth Nations)after a long 100 year war for supremacy. For the last 20 years Humanity has known peace and prosperity, but that all went away within a short time. The National Extraterestrial Satellite Station orbiting the Earth received a message that indicated possible contact with alien life. However, the alien contact was rather.....violent. During the 3 months prior to the initial alien invasion, one alien was identified above all the others. Her name was Renko Falisy and she had already started assimilating the human population into her breed. Her sister breeds wouldn't be too far behind as they were on their way to Earth. The human race was facing destruction against an alien conglomerate that called themselves the Origin Breed and they had no way of fighting back against this scourge as they multiplied to quickly. But all was not lost as a group of people known as The Orion came to aid humanity against the Origin Breed. Armed with technology that could be used to stop the Origin Breed, the human race along with their new found alien allies would try and put a stop to the further invasion of the Earth, the long war known as the Gorgon Calamity Wars had begun.
The leaders of the Earth have long since protected Humanity from tyranny since the 100 year wars began. Now their descendants must protect the Earth from these new foes.
Admiral Milanda Gantz -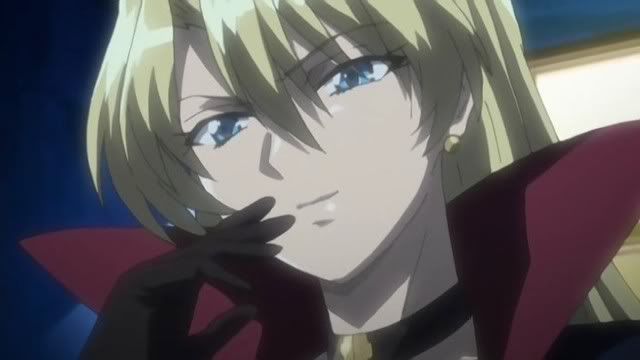 She is the leader and current most important person in the Human Resistance. Without her the UEN military forces would have been decimated way before the Orion ever got there. Her tactical skills and prowess are nothing to be snuffed at and her leadership skills leave nothing to be desired.
General Tordari Halsy -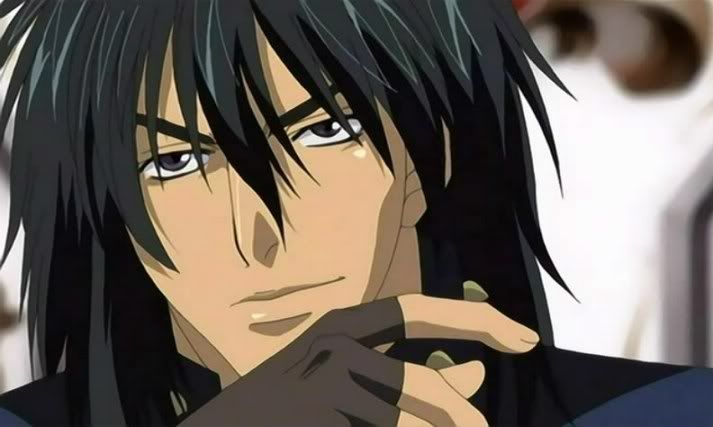 He is currently the leader in charge of the ground troops that head out into the front lines. His skills with a sword or gun are rather great and are unmatched amongst the human ground forces. His impeccable good luck has earned him the title of "Black Ace."
Lt. Commander Johnathon Karnes -
He single-handedly was able to capture an Origin Breed spy when no one else was able. His skills of great deduction and commanding stature make him a very good guy to have on hand whenever a bad situation arises and you find yourself on the short end of the stick of war.
Orion Specialist Kirie Silvia -
Kirie comes from a group of people whose planet was consumed by the Origin Breed, she has decided to aid the Humans in their objective to defeat the evil Origin Breed and try to prevent what happened to her own planet from happening to Earth. She is one of the Black Ops in the Orion origination.
Orion Admiral Takutei Meros -
The Admiral of the Orion Organization, a group of different alien races that banded together to try and protect those plagued by the Origin Breed. He has the charisma of a legendary warrior. Though his personality is rather strange, he is a very good character and has a tendency to fall for Earth women.
The Origin Breed is home to many different alien species incorporated into the five different broods. The leaders of these broods are some of the nastiest people in the galaxy.
The Holverin Brood Queen Renko Falisy -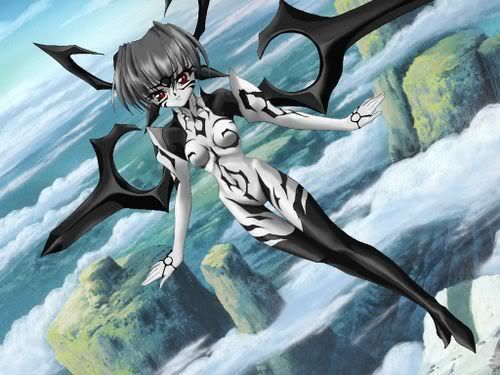 Renko happens to be the Leader of the Holverin Breed. She has master over spacial control and uses it to her advantage to transport her brood through the vastness of space. She used this ability to travel to Earth. Her DNA code is coded as Temporal Virus.
The Vorckenon Brood Queen Tethra Illumious -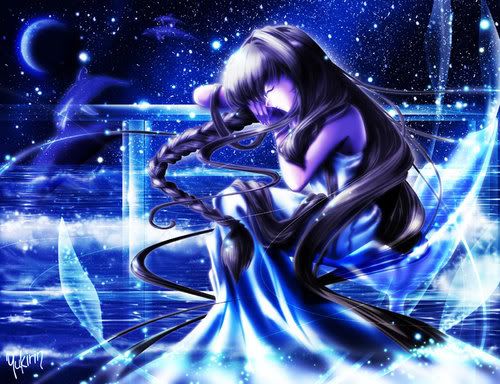 Tethra is considered highly dangerous as she can't be completely destroyed unless every last strand of her hair is ousted. But killing something that can think on the level of millions of people is difficult due to the fact that each strand of her hair has a separate consciousness. Her DNA code is coded as Flourishing Virus.
The Xerthan Brood Queen Catheran Gabriel -
Catheran has the ability of 5 senses heightened to super levels. Her wings are also capable of vibrating at a speed of light frequency. This allows her to travel through time but once she travels through time she must wait another 50 years before she can do so again. Her wings are capable of cutting through any solid material because of how fast they vibrate. Her DNA code is coded as Rivet Virus.
The Yevosion Brood Queen Nyu Love'Ze -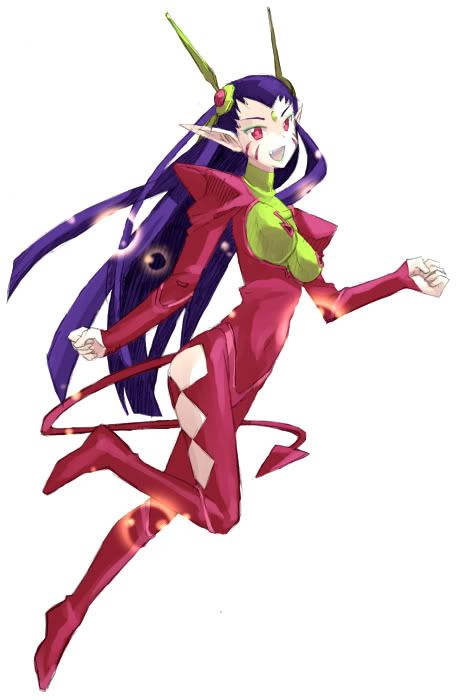 Nyu is able to turn invisible at will and her eyes are capable of inducing hypnosis to either confuse or drive her enemies insane. The affects of her eyes hypnosis aren't permanent and wear off in a couple of hours. Her DNA code is coded as Vision Virus.
The Bergorath Brood Queen Xeres Ezery -
Xeres is a giant around the height of 40 feet tall. Her Brood is rather small due to all of them being rather big. She is able to detect metal objects and can sense people's emotions. This makes her extremely dangerous as negotiations with her are almost impossible. Her DNA code is coded as Rising Virus.
Humans - They exhibit some of the most exquisite tastes for Origin Breed Virus' but also pose as the Origin Breed's most prominent resistance force. They are the first race to ever effectively thwart an entire invasion army of Origin Breed for more then 3 months. They are agile and swift. Will you choose these Cunning people as your race?
Name:
Age:
Organization: (Are you part of the Human Resistance UEN or are you part of the Alien Protectorate The Orion?)
Apperance:
Bio: (How your character came to be part of military service against the alien scourge.)
Personality:
Skills: (Choose up to three skills for your beginning abilities as a human you don't get special powers like the Origin Breed but you can have physical augmentations sort of like a spartan. If you choose to be an Orion member then you may have skills and powers but you are still limited to 3 all together.)
(Stat points are 16 points use them wisely on which stats you want them for, you can't have a 0 for Intelligence or Orion Tech, you must at least have a 2 for each.)
Stats:
Strength: (How much power you can dish out with your bare hands as well as how strong your resolve is. 2-10 2 being the weakest 10 being the strongest, every 2 points cost a point of your stat points.)
Health: (How much damage you can take. 2-10 2 being the weakest 10 being the strongest, every 2 points cost a point of your stat points.)
Intelligence: (How smart you are and whether or not you know how to fly a ship or wield a weapon. 2-10 1 being the weakest 10 being the strongest, ever 2 points costs a point from your stat points.)
Leadership: (How much of a leader you are determines how many soldiers can accompany you, as you gain ranks in the military your leadership stat goes up 1 point per rank. 2-10 2 being the weakest 10 being the strongest, every 2 points cost a point of your stat points.)
Charisma: (How much of a talker you are and also improves your ability to talk your way out of situations that you would other wise like to not be a part of. 2-10 2 being the weakest 10 being the strongest, every 2 points cost a point of your stat points.)
Orion Tech: (How much knowledge of alien tech you have which determines what kind of technology you are capable of using proficiently. 2-10 2 being the weakest 10 being the strongest, every 2 points cost a point of your stat points.)
Origin Breed - The most ruthless scourge of the galaxy and currently the strongest empire conglomerate in existence outside of known space. They are intelligent and resourceful and can very easily overpower a human if alone, but if outnumbered can be killed with enough effort. Although they are considered evil, they manage to pull together a very affective family like structure. They protect their own and will not stand for losing. Will you choose these people as your race?
Name:
Age:
Appearance:
Breed: (Which brood do you belong to.)
Bio: (How you became part of the brood and if you are from a different planet all together before being assimilated.)
Personality:
Abilities: (Up to three abilities to start off with. Your default ability will be given to you upon picking a brood. This does not affect the total number of abilities you can have.)
(Stat points are 16 points use them wisely on which stats you want them for, you can't have a 0 for Intelligence or Origin Breed Tech, you must at least have a 2 for each.)
Stats:
Strength: (How much power you can dish out with your bare hands as well as how strong your resolve is. 2-10 2 being the weakest 10 being the strongest, every 2 points cost a point of your stat points.)
Health: (How much damage you can take. 2-10 2 being the weakest 10 being the strongest, every 2 points cost a point of your stat points.)
Intelligence: (How smart you are and whether or not you know how to fly a ship or use your own powers. 2-10 2 being the weakest 10 being the strongest, ever 2 points costs a point from your stat points.)
Leadership: (How much of a leader you are determines how many drones can accompany you, as you gain ranks in the hive your leadership stat goes up 1 point per rank. 2-10 2 being the weakest 10 being the strongest, every 2 points cost a point of your stat points.)
Charisma: (For Origin Breed Charisma determines how much intimidation you can invoke on your enemies. 2-10 2 being the weakest 10 being the strongest, every 2 points cost a point of your stat points.)
Origin Breed Tech: (How much knowledge of alien tech you have which determines what kind of technology you are capable of using proficiently. 2-10 2 being the weakest 10 being the strongest, every 2 points cost a point of your stat points.)