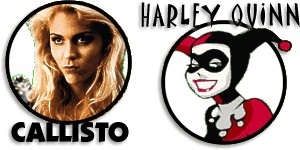 Intern: And you're on in Five-Four-Three...
Maxx: And then she goes "No, that's not how you do it"
Three: We're Back On!
Maxx: Ah! Right-o! A lot of Joe sympathy and nostalgia from the crowd.
Three: Definitely, especially a lot of Snake-Eyes fans out there.
Maxx: Personally Three and myself would like to give a Golden Nut-bucket award to Bozo/Laughing-Man-Boy-Guy/CWO for following around the interviewer and interrupting whenever they felt necessary so as to confuse her into hitting him with her Big Book of Poe.
Three: Definitely. Anywho. Five minutes left, Maxx if you would do the honors?
Maxx: My pleasure, Three. Tonight's scheduled match is a Last Man Standing Field Offensive. This meaning that the Arena is currently simulating a mirrored playing field in opposite directions with a level playing field in the middle. Extending away from this playing field in either direction are various terrain's ranging from mountainous to whitewater. At the opposite ends of each arena are simple HQ's where each team is holed up at the moment. They have been given small, hand selected squads from their own ranks and five hours to send out scouts to survey the terrain's and come up with a battle plan. The only rules are it is a Come As You Are fight, meaning that all the participants can receive no support save from the team mates on the field once the match starts, and that neither team is to send scouts beyond their side of the playing field. Roughly what this comes down to is that only the strongest and best of the groups team will meet on the battlefield and then, once and for all, the winner will be decided.
Three: Thank you Maxx for that thorough explanation. Still two minutes left, Gigs are you there?
Gigadork: Y-yes sir.
Three: While we were getting comments from the regular spectators we sent our Interview Specialist Gigadork to the North Section so as to be able to get any insightful commentary from our esteemed villainous guests. Gigs, do any of the spectators have anything to say about the match at this time?
Gigs: They've been nothing but vocal since I arrived, sir. Mister Megatron especially expressed some interest in speaking with you directly.
Three: Ahem yeah, well. Tell him I'm busy.
Gigs: I would, sir, but he's-
Megatron: Right Here, ThreeDark. I'll merely say this, you had best enjoy yourself while you can. I intend to enjoy the spectacle and then the preceding chaos. I hope you do as well.
Maxx: What do you think he means by preceding chaos? And what's the deal with you and Megs?
Cobra Commander: He Means that once one of the teams of Goodie Goodies finishes off the others then we shall descend upon their remaining, Weakened forces and destroy them ALL! COBRALALA-

*Smack*

Destro: That was for that yell. I shall hit you again later for revealing our plans to the Entire Audience!

Cobra Commander: D'oh!
Three: That's OK guys, these lines are Arena specific, none of that was heard by either of the teams. So, I take it that North Section is exclusively Bad Guy Territory now? Can we have some visual confirmation on that Maxx?
Maxx: That we can, Ted? Thanks. Wow, Three! It looks like a Comic Book Villain Convention! I'm seeing just about every last Marvel, TF, or GI Joe villain I can think to name… and quite a few that I can't! This is amazing!
Three: And look, there's little Gigs! Wave to the camera Gigs! Isn't he cute amongst all the most dangerous villains this side of the andaries cluster-verse?
Maxx: Right on. Oh! There's the whistle. It's time for our two teams to start their treks. For SHEILD sideline coverage here's Dragonblade the Illumas. Illumas?
Illumas: Here, Maxx. The simulated terrain is amazing here. From the onset of emerging from their bunkers it's perilous. The SHEILD team comes out each sporting a small backsack and a rifle. Most of them are nameless and faceless but I've already seen Dum Dum at the head of the first group… and there's Fury now. What they're walking into is thick brush, very thick. Think Amazon and add Miracle-Gro™. They seem to be wading through it well, each soldier has been equipped with a machete and they're making good use of those at this time.
Three: Thank you Illumas. Now, for Joe coverage we turn over to Flux.
Flux: Right here Three, Duke and Scarlet are already half way through the foliage, the rest of the team is making their way through decently but, wait no… Shipwreck seems to be stuck in some vines. Yes. Shipwreck is being pulled into the trees by what appears to be living kudzu. Shipwreck is out of the picture and I'm sure we all feel the Joe's loss. Next bit of terrain after the Amazonian Basin is a sheer cliff that drops eighty feet into whitewater rapids. The river at the base of the cliff is one hundred and fifty feet across. There'll be no grappling across this river. The teams will have to go down to the riverside and cross from there. No small task for either group I'd say.
Three: Sounds right to me Flux. What do you think Maxx.
Maxx: I went white watering once. Fell out of the raft. Found myself in Nevada.
Three: Not such a bad place to be.
Maxx: I started in North Carolina.
Three: Ouch. Illumas, anything interesting to add from the SHEILD side of the tracks?
Illumas: Not much going on here, SHEILD team is going strong with Carter and Bridge heading up the rear. The team also made record time repelling down the cliff face and they're now setting up a tow-line and raft… thingy… to cross the river. Team-work at it's best, I'd say.
Maxx: So much for Knowing being half the battle, eh Three?
Three: We Shall See, Maxx. They're still only half way to the battle site. And this isn't really a race, as you already stated.
Maxx: This is true. Update us, Flux.
Flux: Well, while you two were away I did a head-count and it would seem that, by logic, Shipwreck wasn't the only one lost to the jungle.
Three: What do you mean?
Flux: Snake-Eyes is Missing.
Three: ...
Maxx: You're kidding, right? Three, your sister's such a kidder. Make her stop.
Three: She's not kidding Maxx. Check the Video Feed and Scan-Stats. The numbers do not lie, there's only eighteen Joe's on the field, and we both know they started with Twenty. Snake Eyes was one of the names on their list. All facts point to the painfully obvious.
Maxx: Noooooooooooooooooo! I had MONEY on the JOES!
Three: You doofus. Anything else you'd like to report now that Maxx is crying like a three year old, Flux?
Flux: Sorry Maxx. The Joes are taking the river well, The too seem to have set up a tow-line across the river but they're going at it individually instead of by raft. They seem to be keeping at a steady enough pace from here.
Three: So, what's the next Terrain look like?
Flux: Well, right at riverside it looks like nothing but rocky terrain, but about a hundred yards down the way it hits a mountainside. It's not very steep but overall it's a rather tough looking climb. Duke, Flint, and about five other Joe's are making their way there now. Scarlet and LJ are seeing that the remaining Joe's make it across.
Three: Let's get a quick rundown of what the remaining terrain looks like from Maxx, that way we can speed this up a little for the fans and get to the good part. Maxx?
Maxx: Noooooooooooooooooooooooooooooo! Snaaaaake Eyeeeees!
Three: Riiiiight. Um. Illumas, can you give us an Idea of what the remaining terrain is?
Illumas: Certainly. The Mountain consists of a slowly steepening ascent to a large snowy-region and then a short descent. Anyone without proper insulation could definitely end up having problems at the top.
Three: Maybe Lady J will finally button that shirt of hers. Heh heh.
Illumas: After the Mountain-face there's a swamp region. Marshes and the like along with quicksand and some virulent wildlife. The swamps taper off into an extensive two-mile stretch of desert terrain which hills into the plateau that serves as home for the battle site.
Three: Sounds like Fun. Now, as flick the Arenal-Temporal-Displacement-Atuner we shall spring forward past the boring middle of the movie and to the climactic battle that shall ensue between the agents of SHEILD and the GI Joes.
*Flash-Bang!*
Three: And here we are. These two highly trained government forces stand poised to fight, each in line formation and weapons at ready. Looks to me like the Joe's suffered quite a few more losses than SHEILD.
Flux: Yeah, I count 12 Joe's left to SHIELD's 16. Not that I think that that will be the deciding factor in this match.
Three: Any moment now they'll begin battle and the other half shall be revealed. Yep…. Any minute now. Any second at all. Bullets will fly and blood will be shed.
Maxx: ...
Three: Um... Illumas, what's happening down there on your end?
Illumas: Nothing. Nothing at all, they're all standing there… doing… nothing.
Three: This is a RIPOFF! Come ON! Do SOMETHING!
Maxx: Wait! Look!
Three: Yes! YES! It looks like Fury and Duke are breaking formation! They're walking towards each other! A Manly Duel! MANO E MANO! They Approach and…!
Maxx: They shake hands!
Three: WHAT?!
Maxx: Fury and Duke are talking. Can we get Audio on that?
Flux: On it.

Duke: ... It was my pleasure.

Flux: Now Duke is talking into the radio on his collar

Duke: : Alright, Snake-Eyes. Operation Blue Fox is Go
Three: Something's happening over at North Section It's Snake Eyes is ON The Arena! North Section Wall! THERE! LOOK!